Casino Slots Strategy Guide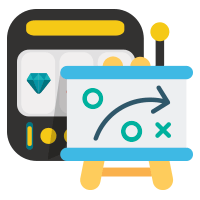 Whether you prefer to call them fruit machines, slots, or something else entirely, it's not hard to understand why slot machines are the world's most popular casino game. Slots aren't just easy to play, but they are available in hundreds of themes and many games feature massive jackpots. While a roulette bet pays a maximum of 35 to 1, you could win millions by betting a single pound playing slots. Yet even though slot machines are games of pure chance, there are several ways to improve your odds. Keep reading this strategy guide and learn how to put yourself in the best position to win. We'll help you get the most out of every spin regardless where you play.
A Word About Slot Machine Strategies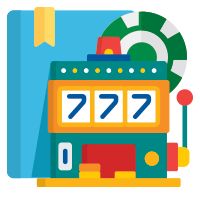 If you haven't noticed, the internet is filled with slot machine strategy guides and tips that act like they're your guaranteed ticket to riches. Unfortunately, most of the information that's out there is useless. That's because these so-called fool-proof systems ignore how slot machines operate. As games of chance, your skillset is entirely irrelevant. Yet at the same time you should ignore those other experts who tell you not to play slots at all. While the odds of winning a blackjack or video poker hand are superior for players, you don't need to master complicated rules or practice for weeks to take home a slot machine jackpot. More importantly, online slot machines fans will notice that the house edge is much lower than it used to be thanks to increased competitions and regulation.
Aside from being fun and affordable, many fruit machines give you the opportunity to win big prizes without betting much money. Of course, the incredible graphics, vibrant animations, and catchy soundtracks make it easy to have a fantastic experience whether you win or lose. At the same time, winning doesn't have to be a pipe dream. Success begins by maximizing your odds every way you can and that's hardly a mystery. Just follow the tips we're about to discuss.
Making Sense of Payout Percentages
With the exception of minor house rules, the odds and house edge in games like baccarat, European roulette, and craps are fairly standard. On the other hand, there are so many different types of slot machines. You can enjoy games with three reels and a single payline, five-reel video slots that give your 1024 ways to win on a spin, and just about anything else you can imagine. As you might expect, every game has its own set of symbols, winning combinations, and payout percentages.
When playing casino games, the payout percentages or return to player figure (RTP) aren't mysterious. In case you aren't familiar with the terminology, the payout rate is the percentage of cash wagered that gets returned to players as winnings. For example, if the payout rate for a game is 94% that means that for every £100 bet, players will win £94 on average. That £6 profit is how the casino stays in business. Before we proceed any further, it's critical that you understand payouts and odds are only true in the long run. If you wager £100, you might lose every last pound or win millions on your first spin. Still, over the course of weeks or months as the game is played by thousands upon thousands of players, the RTP percentage will be as advertised.
Although the UK Gambling Commission doesn't require games to have a minimum RTP, the payout percentage must be made public. This is excellent news for anyone interested in developing a winning slots strategy. By comparing the payout percentage, you can simply choose the games with the highest RTP and instantly improve your odds. When playing online you should look for games with payouts of at least 95%, but you will find games that pay 98% or more. You can typically find this info in the help section of each game. Many internet casinos publish complete RTP information for every game on their website. If you can't find this information, don't hesitate to contact customer service.
Sound Bankroll Management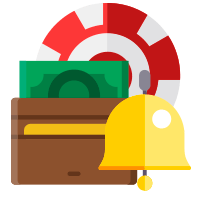 Once you choose which games to play, you'll need to decide how much to wager. When you play online, the stakes are very flexible. You can often bet as little as a few pence or as much as hundreds of pounds on the same machine by adjusting the coin denomination, number of active paylines, and bet per line. The real question is how much can you afford to bet? Even if you are willing to lose £200, it would be foolish to bet that amount on a single spin. Instead, you should place wagers that agree with your budget. Remember that slots are games of chance and are subject to variance.
When you make bets that are reasonable you won't have to worry about draining your cash too quickly. Not only will you be able to keep playing, but you'll have more opportunities to grow your bankroll and potentially hit the jackpot. The recommended bet size depends on a number of factors including your pace of play and risk tolerance, but if you are a beginner then limit yourself to betting no more than 1-2% of your bankroll per spin.
Even though slot machines require no skill to play, you can improve your odds by choosing the right games and managing your bankroll effectively.
Get A Big Sign Up Bonus
Did you know it's possible to reduce the house edge even further by taking advantage of the casino's generosity? All you have to do is claim one of the many bonuses gambling sites offer. Whether you receive free cash, complimentary spins, or a combination of the two, you'll instantly be ahead of the game. The best part is you can use that cash to potentially hit the jackpot.
A Word About Jackpots
If you're like most players, you'll probably head directly to the games with the biggest jackpot.
Even though progressive jackpot slots are enticing, you need to be aware of a few key points. First, you typically need to place the maximum bet on some games to be eligible to win the jackpot. Second, the games usually have lower payout rates than traditional games. That's because these slots direct most of the money they take in to the top prize, which leads to fewer smaller win on the way to granting huge jackpots. While experts ordinarily caution against playing progressive slots, that advice is less relevant to online players. It's possible to find progressive games on the internet with RTP percentages that are higher than 95%.
When the jackpot is large enough, it's easy to justify trying to win. Just make sure you play within your financial means and don't risk more than you can afford to lose. You shouldn't lose sight of the fact that slots are designed to be entertaining. Much of that fun comes from the thrill of potentially winning a life-changing jackpot. As long as your expectations are measured, there's nothing wrong with playing games with lower payout percentages, but it shouldn't be the only game you play.
Loyalty Pays Dividends
If you're looking to get even more from every spin, you'll want to enrol in the casino's loyalty rewards program. Whether you play on the internet or live in Britain, you can generally accumulate points by enjoying your favourite games. When you realise that you can redeem these points for cash, free play, prizes, and other perks, it's obvious why savvy players factor casino rewards into their slot machine strategies.
Slot Machine Strategy Tips
When choosing games look for the titles with the highest RTP %.
Be aware that payouts may vary from casino to casino even when playing the same game.
Place bets that are in line with your budget so you don't run out of cash quickly.
Make sure you pace yourself and enjoy the action, especially if you are new to slots.
Some games require you to place the maximum bet in order to qualify for the top prize.
Use the free play mode to get familiar with the gameplay and test your strategy.
Always play responsibly and stick to your budget.
Frequently Asked Questions About Slots
How do you win at slots?
It's essential to understand that a slot machine is a game of pure chance. In other words, there isn't much you can do to control the outcome other than choose games that give you the best mathematical chance to win. In order to play, you simply choose your game, adjust the size of your bet, and hit the spin button. If the winning symbols appear across an active payline, you'll win the amount displayed in the game's paytable.
How do you play the slot machines?
Whether you enjoy games live or online, it's easy to play slot machines. After inserting your money, you'll have the opportunity to adjust the number of active paylines, coin denomination, and number of coins per line, although not all games let you control all these elements. Once you are happy with the result, simply press the spin button. You'll win if you land any of the qualifying symbol combinations listed in the pay table.
How do slot machines work?
Although early slot machines used a lever, which allowed players to physically set the reels into motion, today's games are based entirely on random number generators or RNGs. These computer algorithms constantly generate random numbers that tell each reel where to stop. The moment you press the spin button, the game randomly determines where each reel will ultimately end up. While there is plenty of suspense as the reels come to a halt, it's effectively a simulation whether you play on the internet or at a live venue. In order to ensure that the games are fair, every game has a published pay out percentage and independent auditors test the software to ensure that the games function as advertised over time.
What is a progressive slot machine?
While standard slots feature a fixed top prize, progressive slot machines grow over time until a lucky player hits the jackpot. When you play a progressive game a small portion of your bet will be added to the jackpot. Since the most popular games are networked and available at multiple sites, they can balloon quickly. The best-known games feature prize pools worth millions of pounds. Although the odds of winning are long, there are plenty of other prizes besides the jackpot.
What is a loose slot machine?
Loose slot machines pay out more frequently than average games. It's a good idea to check out the payouts when comparing games. Payout percentages reveal the proportion of cash wagered that the casino pays out to players in winnings over time. Generally, loose machines tend to have smaller top prizes, but it's also easier to win over all.
Top