How to Sign Up Using a Casino App
Anyone who has a smartphone or tablet can tell you how to install online apps. Casino software operates just like any of the games you might find in your device's app store, except you'll have the option of playing for real money. Why settle for Candy Crush or some other mindless game when you could be winning cash at an online casino?
Just follow these simple steps and you'll be enjoying excellent casino game apps in no time.
Check out our top-rated online casinos to find one that appeals to you
Tap the link to visit the casino online
Sign up with your personal details and verify your email address
Tap on the download or app button in the online casino
Open the downloaded app and sign in
Enjoy playing with top gambling apps
How We Find the Best Casino Apps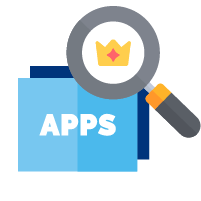 In case you haven't noticed, we're in the middle of a revolution filled with apps. Online casino players will quickly discover that most gaming sites now offer mobile software for download. Just like the casinos themselves, apps do vary widely in quality.
Fortunately, searching for excellent real money casino apps is just like trying to find a great online casino. UK players can count on us and our findings since we've already tested, reviewed, rated and compared tons of sites. All these recommended casino apps and sites include:
A valid UK Gambling Commission license
Offerings of all your favourite games and apps for your device
Advanced encryption to protect your data
Excellent customer support to answer any queries
Secure mobile banking options for deposits and withdrawals
Which Devices Support Casino Apps?
We keep talking about all the top casino apps, but where do you put these apps anyway? While some players will install a gambler app to any device, others prefer to only play on a tablet.
You might like to play on a smartphone, and we've even heard that some people like to use their smartwatches for casino apps. Real money and free play options abound no matter what device you play on.
Smartphones

: The most widespread of all mobile devices, our modern smartphones have more technology in them than what was used to put a man on the moon. Of course, we can use them to play free games to win real money.

Tablets

: A popular platform for visiting a casino online, tablets offer all the mobility of a smartphone, but with the upgraded screen size and technical abilities of a larger device.

Smartwatches

: The smallest and newest form of mobile device will also let you get in on the top gambling apps. Spin the reels or even play a hand of cards from the screen on your wrist!
Get Bonuses with a Casino App
When you play at the best online casinos using a gambling app, you can still make use of all that site's bonuses, and more! All of our recommended online casinos have generous bonuses and rewards, for new players and for loyal fans.
Depending on the online casino, no deposit bonuses, welcome bonuses and free spins could all be part of the normal casino experience.
But by using top casino apps, you can also get specific extra bonuses and promotions. Many casinos want you to download their software, and will even give you free play money or free spins when you do so. Some sites run tournaments just for players using casino apps with real money jackpots only a tap away.
Free Casino App Games
You can choose how you like to play with casino apps. Real money players can use the same apps as free casino app fans. Once you login, you'll be able to decide if you want to play for fun or put your money on the line.
Free casino app games are excellent if you're just learning the ropes of a new strategy or game, or if you want to test out a casino or app. They're also just a lot of fun and can provide hours of entertainment. No matter the reason, there are plenty of free top casino apps in 2023.
Conclusion: Download the Best Casino Apps of 2023
Are you looking for the best apps? Casino sites are compatible with a wide range of platforms in 2023. UK online casino players will find support for Android, Windows Phone, iPhone and iPad. By downloading a top casino app, you'll get excellent casino action with the tap of your finger.
You don't need the latest hardware either. Devices that are several years old should offer great compatibility. Whether your device is made by LG, Samsung, HTC, Microsoft, Apple, Sony, Alcatel, or any other leading manufacturer, you can get in the game.