Guide to Rogue Betting Sites and Blacklisted Casinos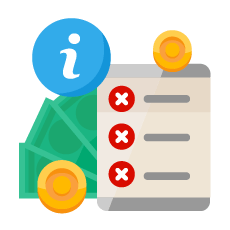 One of the biggest benefits of online gambling is the convenience. Not only can you place bets anywhere in the United Kingdom with very little effort, but you can take your pick of several hundred different casinos. When you consider all the available games you can play and places you can bet, the possibilities are endless. While having so much choice is great on the surface, there are some drawbacks.
You can probably guess that some casinos are far better than others, yet you might not realise that a few of the gambling sites out there should be avoided at all costs. Fortunately, you don't have to guess or simply hope for the best when searching for a great place to play. Our team of experts have compiled a casino blacklist, which exposes rogue sites. Not only will you learn which sites to avoid and why, but we'll make it easy for you to find trusted places to enjoy your favourite games.
Getting Familiar With our Blacklist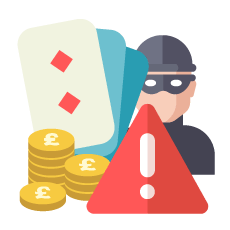 If you love betting and live in Britain, you're definitely lucky. Unlike other jurisdictions that either outlaw internet casinos or let them fly under the radar in what amounts to a legal grey area, the United Kingdom protects its citizens by licensing online gambling sites. Not only does the UK Gambling Commission regulate sites that are located in Britain, but casinos that are based overseas that accept British bettors must also apply for a license. In other words, Brits have plenty of protection when wagering on the internet. Of course, if you choose your site by googling internet casinos, you'll be presented with options from all over the globe. While many of these sites are reputable, you're bound to encounter at least a few bad actors. The good news is our blacklist is here to blow the whistle on substandard sites.
While you can find dozens of casino blacklists on the internet, it's important to understand that every gambling resource site has its own methodology for creating and maintaining a blacklist. Although we can't speak for everybody else, we're happy to share our exhaustive approach with you. Our blacklist features casinos that have personally wronged members of our team during our review process, but that's merely a starting point. While sizing up sites, we look into every casino's license, supplemental credentials, and management team. If we don't like what we find, we won't hesitate to add a site to our blacklist. We also keep up with the latest news, comb through reputable forums, and consult social media to find potentially harmful casinos. Naturally, we also welcome input from members of the playing public like you.
Savvy players always consult a blacklist before signing up at a gambling site. It's one of the quickest ways to steer clear of rogue casinos.
Why Casinos Get Blacklisted
Just like reputable sites, bad casinos come in all shapes and sizes. In fact, casinos can end up on our blacklist for so many different reasons, some of which are more severe than others. As you might expect, many of the bad sites have multiple issues. Yet even a single severe infraction should make you consider running for the virtual hills, especially since there are so many great places to play. Let's explore some of the most common issues with disreputable casinos.
Lack of License or False Credentials
The biggest red flags often appear before you even sign up. If a site doesn't hold a valid license from a recognized governmental gambling agency, you should obviously steer clear. Yet sites can also appear on our list of rogue casinos if they have an expired or forged license of any kind.
Not Paying Players
One of the greatest fears bettors have is that they won't get paid when they win. Non-payment and even late payments are grounds for inclusion on our blacklist. Sometimes there are valid reasons for players not receiving their funds right away. For example, you may need to satisfy certain bonus conditions or verify your identity first. Of course, bad sites will make you jump through endless hoops and just never pay you. Yet even slow payments can be a cause for concern and indicative of larger financial problems.
Poor Management Team
Once a casino appears on multiple blacklists, it will certainly have a hard time attracting players and staying in business. As a result, the management team might opt to change the name of the site or open an entirely new casino. Of course, we are always one step ahead and will naturally assume that the newly launched or rebranded casino is as bad as the old one.
Unfair Games
Most casino games rely on RNGs or random number generators. These computer programs ensure that every roll of the dice, shuffle of the deck, and slot machine or roulette wheel spin is random. When you play at a reputable site, the RNGs are tested by independent labs and auditors to ensure you have a fair shot at winning. Some casinos that appear on our blacklist have been accused of offering games that aren't fair or failing to have their software tested by a reputable agency.
Unauthorized Software
If you've ever shopped online, you know that it's important to watch out for counterfeit merchandise. That's often as easy as choosing a reputable shop. You wouldn't want to end up with a counterfeit coat that won't keep you warm in the winter or a mobile battery that could explode. When playing online, a few rogue sites have been caught using pirated software. Not only do the software developers not get paid for their hard work, but there's a good chance the games aren't fair either. Would you really want to trust a site that can't be bothered to play by the rules?
Misleading Bonus Offers
While it is true that most bonuses have terms and conditions, casinos should make it easy for players to understand any wagering requirements. Gambling websites that mislead players, make it difficult to convert your bonus funds, or fail to honour their part of the bargain are sure to be included on our blacklist.
Marketing Infractions
Sketchy sites are not only notorious for sending spam, but they also make a habit of selling your personal information to other gambling sites against your will. Reputable casinos operate ethically and would not engage in such practices.
Weak Privacy and Security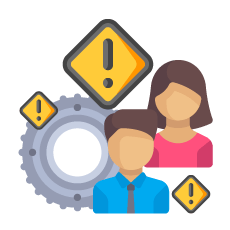 We expect sites to not only respect your privacy, but they need to do everything in their power to safeguard your personal and financial data. That means using advanced encryption to process payments and protect your account. You should never need to worry about falling victim to identity theft when all you want to do is have some fun. If a casino compromises player safety due to neglect, incompetence, or any other reason, you'll want to look elsewhere.
Customer Service
When you play at a live casino and have a problem, a staff member is only a few steps away. The leading internet gambling sites do a great job of duplicating the offline experience by providing customer service by live chat and phone around the clock. A blacklisted site may seem like they offer great support until you have a problem. You might get conflicting info from different agents. It's also possible that the casino will stop answering the phone when you want to know where your money is. Agents ought to treat you with respect in any situation.
Sites UK Players Need To Avoid
Cool Cat Casino

Very slow payments
Unresponsive support
Unreliable promotions
Casino Fiz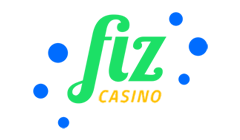 Payment Issues
Shady practices
Unfair promotions
Osiris Casino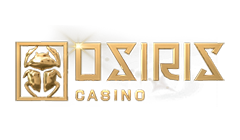 Not delivering on promos
Poor business practices
Slow communication
Stay up to Date
Although online gambling has been around for over two decades, the industry continues to grow and mature. What was true yesterday could very well be irrelevant tomorrow. Whether you are reading reviews, comparing the latest promotions, or finding out which sites to avoid, it's important that you rely on information that's current. That's precisely why we regularly update our blacklist. Why not bookmark it now, so you'll have it handy the next time you find yourself searching for a casino online?
What You Should Look for When Choosing an Online Casino
Our casino blacklist will let you know which casinos to avoid, but that's just part of the secret to having a great experience at an online gambling site. It's also essential to understand what the best casinos have in common. Before signing up, you'll want to make sure your betting site has:
A valid UK Gambling Commission license
Certifications from eCOGRA or other testing agencies
All your favourite games at your preferred stakes
Big bonuses and excellent promotions
Apps or instant play games for your device
Around the clock customer service
Frequently Asked Questions About Blacklisted Casinos
What is a blacklisted casino?
A blacklisted casino is a gambling site that has exhibited a history of bad behaviour. Given that there are so many excellent internet casinos in Britain, you should always avoid blacklisted casinos.
How does an online casino become blacklisted?
An online casino can be blacklisted for a variety of reasons. Sites can wind up on our list by personally wronging our reviewers or members of the public. If we suspect blatant fraud, we won't hesitate to immediately include a casino on our blacklist. In the case of minor infractions, it can take a couple of incidences for a site to land on our wall of shame.
What kind of actions do blacklisted casinos do?
In the past, blacklisted casinos have hosted unfair games, falsified licenses, utilised pirated software, neglected to protect player privacy, lied to players, spammed users, and failed to pay players, among other infractions. Yet seemingly less significant issues such as slow payments, unresponsive customer service, and suspect management teams could also earn a site a spot on our blacklist.
How can I be more careful about blacklisted casinos?
We recommend that you refer to our blacklist before signing up at a gambling site. If you're already playing at one of our blacklisted sites, we recommend you try cashing out and take your business elsewhere. Of course, a blacklist is just one of the tools you can use when comparing and choosing casinos. You'll also want to visit our list of recommended gambling sites, which are all licensed, vetted, and trusted.