Casino House Edge Explained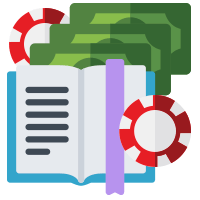 Did you know that casinos always have the upper hand? It doesn't matter which game you play or where you play it, casinos pay out less money than they take in. Even when a game is completely fair, the rules are set up to statistically favour the casino. Then again, the presence of the house edge doesn't have to dash your hopes entirely. Chances are you've had great days at the casino yourself despite the inherent house edge. Yet when you fully understand how the house edge works, you minimize its effects. Continue reading this guide and our gambling experts will reveal how to make the most out of the house edge.
Understanding the House Edge
Casinos offer outstanding entertainment. Even if you don't gamble, it's fun to watch visitors risk it all and manage to defy the odds. Naturally like all businesses, casinos exist to make a handsome profit for the owners. This is by no means a recent development. Casino games, including baccarat, roulette, and blackjack, have been popular for more than a century and the house edge, which is dependent on the rules, hasn't changed much.
When you play any of the more popular table games, the casino's advantage is fairly consistent. Although this is generally true, minor rule changes can considerably alter the advantage of the house. For example, European roulette has a reasonable house edge of 2.70% but that number jumps to 5.26% when you play the American version due to the addition of an extra number on the wheel. Yet what do these numbers mean to you? The house edge percentage tells you the casino's profit margin. For instance, when you play double exposure blackjack with a posted 0.69% house edge, the casino can expect to make a £0.69 profit for every £100 wagered on average.
With this in mind, the house edge probably won't reflect your individual experience. You could bring £100 to the table and lose it all or you could win a few hands in a row and be up £500 fairly quickly. Due to variance in the short term, it could take thousands of blackjack hands before casinos achieve this profit margin.
Even though the casino has a mathematical upper hand over players, you can minimize this advantage when you understand the house edge.
Accounting for Variance
Variance can mean a lot of things to different people. While statisticians define it as an amount that's equal to the square of the standard deviation, we'll spare you the boring university statistics lesson. In practical terms, it means diverging from the average. Look at it this way. All games of chance are completely random. When you roll dice at the craps table, the laws of physics dictate where they end up. Assuming a game is fair, which it will be at a licensed casino, spinning a roulette wheel and shuffling a deck of cards are also random acts. Of course, on the internet, the RNG or random number generator brings you the same level of randomness.
With randomness in mind, you would expect certain results. For example, if you roll a single six-sided die 60 times, you would probably expect it to land on 1, 2, 3, 4, 5, and 6 about 10 times each. If you try this, don't be shocked if you get different results each time even if you shake the dice in the same random way every time. The fact is there is variance in the results. In all likelihood, your patience will wear thin long before you witness a distribution that perfectly matches the odds. Nonetheless, this is what makes it possible to win or lose in the short term, even if casinos win over time.
Finding the House Edge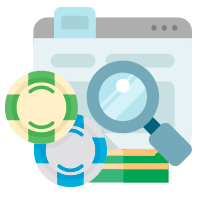 The house edge is never a secret. When playing fruit machines offline, you'll typically find the return to player or RTP % posted right on the machine. The RTP is another way of expressing the house edge. It tells you what percentage of real money wagers will be returned to players in the form of winnings. If you encounter a 97.5% RTP, just subtract this number from 100 to calculate the house edge, which would be 2.5%. Again, these pictures reflect the long-term picture and are in no way representative of your individual returns. Online slot machine players can typically find these figures listed in either the help section or within each game's instructions.
If you are playing table games at a live casino, you can ask a member of the staff for a brochure that explains the rules, odds, and house advantage. Internet players can read the game rules on the landing page or check out the sitemap to find an RTP or house edge guide.
Why You Should Believe the House Edge
The numbers don't lie, especially when you play at a reputable casino that's licensed and regulated by the UK Gambling Commission. Casinos not only post the house edge so you can make informed decisions, but these results are put to the test by independent testing agencies. You can count on these auditors to test the games, software, data, random number generators, and physical gaming equipment to ensure that games are fair and the house edge is exactly as advertised. When you play online, you can usually find monthly reports indicating the house edge or RTP for individual games and the site as a whole.
Now that you thoroughly understand how the house edge works, you'll want to use it to your advantage. The means choosing games that offer the lowest house edge and avoiding games that stack the odds against you.
Online Vs. Offline Play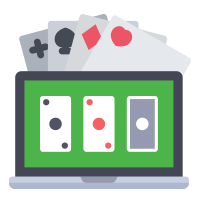 Even though the internet gambling industry continues to experience explosive growth year after year, many Brits much prefer a night out at a live casino. While online and offline play both have their advantages, the overall house edge is often a little better for players on the internet. That's because you can find obscure variations of games with more favourable house rules, especially if you play blackjack. Slot machine fans will also find a wider variety of games with superior payouts on the internet. In addition, online players have access to hundreds of sites, which makes it easy to shop around for the best games with the lowest house advantage.
If you're a beginner, you'll likely have an easier time winning online. Not only is there less pressure, but you can refer to game and strategy guides as you play. Don't forget that you can reduce the house edge of many games by taking advantage of bonuses, promotions, and loyalty programs on offer.
Typical House Edge of Popular Casino Games
Baccarat 1.06%
American Roulette 5.26%
Classic Blackjack 0.13%
Craps 1.36%
Double Exposure Blackjack 0.69%
European Roulette 2.70%
Let it Ride 3.51%
Jacks or Better Video Poker 0.46%
Keno 20%-40%
Super Fun 21 0.94%
Sic Bo 2.78%
Vegas Strip Blackjack 0.35%
Improving Your Odds
When comparing casino games, it's important to know that the posted house edge can be misleading. Since not all bets within a game have the same house edge, you can improve your odds by sticking to the most favourable wagers. For example, in punto banco baccarat bets on the banker have a 1.06% house edge, bets on the player have a 1.24% house edge, and bets on a tie have a 14.4%. If you bet on the banker every time, the casino's edge will be miniscule.
Top