How to Start Playing at an Online Casino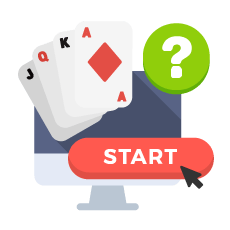 If you're looking for action-packed entertainment that's available around the clock, you'll definitely love what's in store at Britain's greatest online casinos. Not only can you find all your favourite casino games, but gambling sites make it worth your while with incredible bonuses to make you feel at home on day one. Of course, before you can hit the tables, roll the dice, or compete for a progressive jackpot worth millions of pounds, you'll need to get set up. Luckily, we're here to walk you through the entire process from finding a fantastic casino to playing and winning.
Finding a Great Place to Gamble
Did you know the United Kingdom is home to the best casinos on the planet? Whether you prefer poker, bingo, roulette, blackjack, keno, baccarat, sports betting, or any other form of wagering, you'll find hundreds of licensed online options. Unlike residents of many other countries who have little or no government protection, Brits can access sites that are fully regulated and licensed by the UK Gambling Commission.
Of course, with so many places to play, narrowing down your options can be difficult if you don't know what you're looking for. Fortunately, you can count on our casino specialists to guide you. Just take advantage of the expert reviews, ratings, and opinions that you'll find throughout this site. In case you prefer doing your own research, it's a good idea to ask yourself these questions before signing up at a prospective site:
Is the casino fully licensed by the UK Gambling Commission?
What measures does the casino take to keep you and your money safe?
Does the gambling site offer a competitive bonus and loyalty programme?
Are your favourite games available at stakes that meet your budget?
Will the casino accept your favourite banking method or will you need to sign up for a new payment service?
Does the casino support your particular brand of computer, mobile, or tablet?
Even if you've never visited any sort of casino before, you can sign up and play online in just a few minutes.
Creating Your Account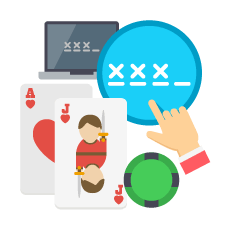 Once you find a gambling site that fits the bill, you'll need to create an account, which you can do from the landing page. While it is possible to register from within an app, not all gambling sites require you to download software. For simplicity, we recommend signing up through the casino's landing page using your computer, mobile, or tablet.
Although the registration process varies from site to site, you should expect to complete a brief form that requests your name, address, e-mail address, date of birth, phone number, and the password you wish to use. You'll also need to agree to the site's user agreement. Keep in mind that you must be at least 18 years of age.
After clicking OK to confirm your details, you should receive an email confirming your registration. Some casinos require you to click on a link to activate your account. While it is possible to deposit funds during the registration process, not all players are interested in gambling for real money. You can learn more about funding your account below.
Claiming Online Casino Bonuses
It's not hard to get ahead of the game when you visit an online casino. All you have to do is claim one of the many valuable bonuses. Just about every gambling site offers some sort of bonus to new players in the form of free money or complimentary play. You can find bonuses that match your deposit with free cash, as well as other valuable offers that don't require you to deposit.
Although there are typically terms and conditions such as not being able to withdrawal your bonus funds until you've played a specified number of games, it's always wise to cash in on a casino's generosity.
Downloading Software
Whether you plan on playing for real money or just for fun, you'll need to find out whether your casino requires you to install gaming software. Even though it's true that software used to be mandatory, the majority of casinos now offer an instant play mode that lets you enjoy games in your browser without installing anything. Some gambling sites have special mobile apps for Android, iOS, Microsoft Surface, and Windows Phone. We've even found sites that let you choose whether you want to use computer software, instant play games, or mobile apps.
Given that every casino has unique system requirements and pathways into the game, you'll want to visit the site's landing page using your preferred device. That way you'll instantly receive the correct instructions for your particular hardware. If you need to download PC or Mac software, you'll usually find it right on the site. Android, iPhone, iPad, and other mobile users will find direct links to the App Store and Google Play. Just follow the directions and you'll be ready to play in a couple minutes or less. Don't forget to launch your software or app. If you plan on playing in your web browser, you can access the gaming lobby from the landing page and either make a deposit or play for fun right now.
Funding Your Account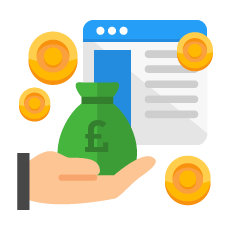 If you decide to play for real money, you'll want to visit the cashier to make your deposit. You can access the cashier from the casino's landing page or within your software. Most licensed sites in the United Kingdom welcome a wide range of safe and secure banking methods. You can typically take your pick of Visa, MasterCard, PayPal, Skrill, Neteller, paysafecard, bank transfers, and debit cards, but many sites offer additional methods like bitcoin and Apple Pay. If you prefer a less popular method, then it's wise to check out the options before signing up to make sure it's supported.
Online casinos always make it simple to deposit since if players face any barriers they can visit another site in a matter of seconds. To fund your account just select your deposit method, enter your payment amount and follow the instructions. If you pay by credit card, you'll generally be prompted for your card number, security code from the back of the card, name as it appears on the card, expiry date, and billing address. If you use an electronic wallet, you'll be directed to your PayPal, Skrill, or Neteller account to authorise the transaction. Apple Pay users can expect to be prompted to place their finger on Touch ID. No matter how you fund your account, you'll also want to enter a bonus code if you have one. One of the benefits of gambling online is that your payment will usually be processed immediately, which means you can start playing for real money right now.
Start Playing in 6 Easy Steps
Browse reviews and ratings to find a top-rated casino.
Visit the site and create your account by filling out the registration form.
Download optional apps or software from the landing page.
Launch your software or visit the casino lobby in your browser.
Visit the casino cashier to make a deposit if you wish to play for real money.
Begin playing all your favourite casino games.
Frequently Asked Questions About Getting Started with Online Gambling
How do I gamble at an online casino?
Gambling at an online casino is easy. All you have to do is find a licensed site that appeals to you, sign up, and make a deposit using your credit card, debit card, bank transfer, PayPal, voucher, or other convenient method. Next, browse the games in the lobby, click on your favourite, and gamble away.
New player should also know that while some sites do have apps or software available for download, you can just as easily play in any web browser including this one.
How does an online casino make money?
Whether you play online or at a live casino, the house easily makes money since every game has a built in statistical advantage that favours the house in the long run. In other words, casinos pay out less in winnings than they take in bets. Of course, what happens in the short term is anybody's guess.
What is a gambling license?
A gambling license allows a business to offer casino games, bingo, and other forms of betting to the public. In Britain, the UK Gambling Commission is responsible for licensing and regulating gaming. Both online and offline casinos must have a valid license to legally operate or advertise in the UK. License holders must also pay a fee, meet certain technical standards, be socially responsible, and ensure their operations are crime-free.
How much is a gambling license?
Gambling businesses may require up to three licenses, specifically an operating license, personal management license, and a premises license. The amount of the license depends on the gross annual income of the venue, but the application fee starts at £2,640 for operators who expect gross gambling yields of less than £550,000. Upon approval of an application, casinos must pay an annual fee between £2,709 and £387,083, although there is an additional fee for operators who generate more than £1-billion in revenue.
Top