Top 10 Tips for Online Gamblers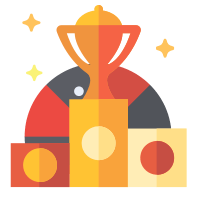 When you search online, you'll find loads of sites telling you their top tips for online gamblers. On this page, we're giving you our take on this popular topic so that, whether you're a seasoned veteran or a complete newcomer to online gambling, you can get the best possible experience the next time you head to your favourite online casino.
When looking at tips and suggestions it's important to realise that we can only offer you our opinion on how to improve while giving you the tools to better your own game. However, we are sure that, once you have taken a look through our suggestions, you too will be a better gambler in no time.
Try Out All the Games
One of the most important tips for new players is this: you'll only be able to know which game is your favourite by trying out all of them! This means that when you first sign-up, you should spin the reels of some slots, experience the thrill of table games, and also test drive all other games on the site as well. Even more experienced players can benefit from trying out new games from time to time, just to make sure things don't become boring. You won't just find out which games you like most when you try them all out though – you'll also find out which ones you're most successful at. You can then weigh up the enjoyment and the money, and decide on your favourite online casino game.
If you want to find out about the different games at an online casino, you'll find a few really handy guides here on this site. All of them have been written by experienced online gamblers, and should give you the best possible start when playing an online casino game.
Use Bankroll Management
Bankroll management is something that absolutely every gambler should use, regardless of the game they're playing, and regardless of the stakes they are playing at. In a nutshell, it prevents you from betting beyond your means, and ensures that you always have some money left over, even if you go on a bad run. Bankroll management might not be the most interesting part of gambling online, however it doesn't take too long to learn, and it will benefit you massively throughout your time at an online casino.
There are many different sites with their own opinions on bankroll management, and some of these opinions are good, and others aren't so useful. We're known as one of the top online gambling sites for UK players though, and our guide to bankroll management has been written by an online gambling expert. So, if you want to find out more about bankroll management, why not check out our comprehensive article on it?
Play Games with the Highest RTP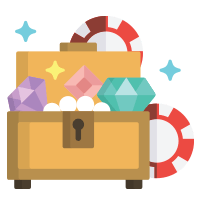 Return To Player (RTP) is an incredibly important part of any game. It tells you exactly how much you can expect to win when you play, and is usually expressed in a percentage. So, if the RTP of a game is 95%, it means that, on average, you should get back £95 for every £100 you spend. Therefore, it makes sense to always play the game with the highest RTP possible. Exercise some caution when it comes to the RTP of games that have some elements of skill though, as the RTP is only accurate if you play using optimal strategy. Of course, you shouldn't just play a game due to the RTP though – you also need to play a game that you enjoy as well.
But where can you find the RTPs of games? Well, this depends on the site you're playing at. Some online casinos publish the RTPs of their different games for all players to see, however others prefer to keep them private. If the RTP isn't displayed clearly, there's no need to panic though, as you simply need to search on Google to find the answer. See our guide to learn more on payout percentages.
Big Isn't Always Best with Bonuses
When you see an online casino bonus offering huge amounts of money, it can often look too good to be true – and this is very often the case. Experienced gamblers will know that the bonuses promising the largest sums of cash often aren't the best, and this is because they can require huge deposits, or have restrictive terms and conditions attached to them. So, when you're choosing a bonus, you should look at the whole package, and not only the amount – check the rollover requirements, the games the funds can be used at, and the way in which the bonus is released.
Of course, money does talk though, and the best bonuses offer great terms and conditions, as well as really high amounts of bonus money. If you were to look for the best bonuses yourself though, it could take you days. Instead, why not check out our page on bonuses, or read our reviews? By doing so, you'll find the best deals in absolutely no time!
Always Gamble in Moderation
This is one of the most important points to remember, as gambling is meant to be fun, and it isn't meant to take over your life. Many people enjoy gambling on a regular basis, but unfortunately some people do become addicted. So, you should always keep tabs on your gambling, and constantly check to ensure you aren't gambling too much. If you think that you could have a gambling problem, please look at our page on gambling addiction, which tells you about the signs to look out for, as well as how you can get help.
Don't Expect to Make Money Quickly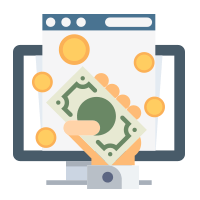 Many new online gamblers expect to make huge amounts of money in no time at all - just one spin of the reels, and they expect to win thousands of pounds. This is not the way successful gamblers play though, as they instead look to make money over the long term, making intelligent bets and never overstretching their finances. Of course, it's not impossible to win a huge amount of money quickly, but this isn't going to happen to most people. So, when you join an online casino, make sure you're planning for the long-term!
Only Play at Trustworthy Casinos
Most online casinos are completely trustworthy, however there are a few that spoil the online gambling world, and it goes without saying that these should be avoided. Whether it's not paying players quickly, offering poor customer service, or not providing fair and honest games, some sites simply aren't worth your time. So, how do you avoid these sites? Well, you should never play at a site that isn't regulated by the UK Gambling Commission, and you should only play at sites that have had their games verified by an external organization. The easiest way to find the most trustworthy casinos is simple though: look through our list of recommended casinos, all of which are guaranteed to be completely fair and honest.
Try to Avoid Side Bets
When you play certain table games, such as blackjack and baccarat, you might find that there are side bets on offer – optional bets that allow you to bet on a certain outcome. Most experienced gamblers will tell you that these side bets are simply not worth bothering with, as they are skewed heavily in favour of the casino. If you have enough money to comfortably make a side bet, it is better to instead add the amount to your main bet, as you'll have a much better chance of winning. Side bets deliberately have huge possible prizes, however you're unlikely to win them, and most end up making a loss when they use side bets at a table game.
Online Casinos Offer Better Payouts
Many gamblers enjoy playing at both online and offline casinos, and we don't blame them. After all, both types of casinos offer loads of fun, as well as the chance to win some really large amounts of money. It costs a lot of money to run a land-based casino though, while online casinos have much lower operating costs. Because running an online casino costs less money, it means that they're able to offer bigger prizes. So, if it's simply big prizes you're after, it makes sense to concentrate on playing at online casinos. Don't completely ignore offline casinos though, as visiting a casino is one of the best nights out around!
Have Fun!
The online gambling world is designed with one important thing in mind – for you to have as much fun as possible! Sure, the prizes are an added incentive to play, but there's no point spinning the reels or receiving your cards if you aren't enjoying yourself. So, regardless of whether you're playing slots, table games or video poker, make sure you always do it with a smile on your face!