Your Guide to Safe Online Casino Gambling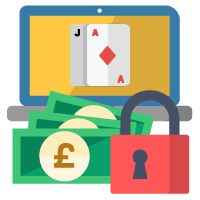 While the majority of online gambling sites offer people the chance to enjoy their favourite casino games in a safe and secure environment, there is always a risk of coming across a less than reputable site.
Here at Casino.co.uk, we are dedicated to providing you with the tools to identify safe online gambling sites so that you can enjoy hours of entertainment in a secure environment.
Covered in this guide are the below important aspects of online gambling, including:
Why you should play at a recommended casino
How licensing and certifications can protect you
Picking the perfect payment option
How We Test for the Safest Online Casinos
Our team of experts work tirelessly to create detailed and thorough casino reviews. Beyond the words and explanations, each site is rated and ranked to help you find the best online casino. UK players in particular are lucky to have extra protections that top online casino sites.
We will only over recommend casinos that have met our stringent safety requirements, which are tested by experienced reviewers on a regular basis. Our veteran reviewers take on the role of a would-be gamblers, creating accounts, depositing funds, playing games and withdrawing winnings so that players know what to expect. With a particular focus on security, each review checks:
That the online casino sites are fully licensed by the UK Gambling Commission
All transactions are protected by the latest encryption technology
For secure and popular banking methods for safe deposits and withdrawals
Games are from established developers with additional fairness tests
Customer support is friendly and efficient at validating identity for speedy payouts
Quick Internet Safety Tips
Look for the lock on the URL bar as proof a site is encrypted and safe
Only use a secure WiFi network for transactions
Choose strong, unique passwords
Keep your device and software updated
Use fingerprint or PIN security on your mobile device
Only Licensed Casinos are Reputable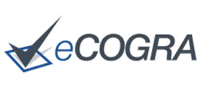 In the UK it's a legal requirement that all online gambling sites offering services to those in the UK are overseen by the government organisation known as the UK Gambling Commission, or UKGC. For sites hosted in other countries, organisations such as the Malta Gaming Authority (MGA) assist in regulating sites that operate in the UK.
If you're in the UK and see a site not regulated by the UK Gambling Commission you should avoid it as they are not operating within the laws of the country. The focus of the UKGC is the protection of players by ensuring all practices are above board, ensuring that the games are fair, and also making sure that players are treated in an acceptable manner.
Finding out whether a site is regulated by the UK Gambling Commission is key when choosing an online casino and, luckily, the process is usually really easy. Verified sites will always display the UKGC logo in a prominent place, usually at the bottom of the page. You can then click on this logo to find details of the online gambling site's licence from this regulatory body.
Should you encounter any issues at an online casino licensed by the UKGC, your complaint will be handled with official channels and typically resolved quickly and fairly. The UKGC is seen as one of the strictest and best regulatory bodies in the world, so players in the UK can rest assured that they are protected.
eCOGRA and Independent Auditing – Fair Games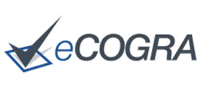 To the uninitiated, it might seem that it would be incredibly easy for an online casino to cheat players out of their money, simply by making the games impossible to win. This is not the case, though, thanks to the work by eCOGRA, as well as similar companies.
These organisations:
Audit sites regularly
Ensure games are truly random
Evaluate how safely casinos store players' money
So, if you see the eCOGRA logo at a site, you can be sure that their games are completely trustworthy. As with the UKGC, you can find out if a site has been audited by heading to the bottom of a page. Clicking on the logo should then bring up the site's certificate.
Pick the Perfect Payment Option
When it comes to making payments at online casinos, nearly all the different options are completely safe. Some people are understandably wary about depositing online, though, so what can they do to stay confident?
To start off with, choosing from one of these preferred and popular banking methods will guarantee peace of mind when visiting an online gambling site:
Bank deposits
Bank verified debit cards that require a pin code when performing transactions
Paysafecard and other prepaid solutions
e-wallet services such as Neteller or Skrill
When it comes to online gambling, you should always trust your instincts. If you ever feel uncomfortable when making a transaction, stop and use a different method. Before you input your details, check for a lock icon in the URL bar or app to show that the site is using the latest SSL encryption technology.
When it comes to how the actual online casinos handle your money, you can be sure that any casino we recommend is completely secure, and that your money won't disappear without a trace.
Avoid these Blacklisted Casinos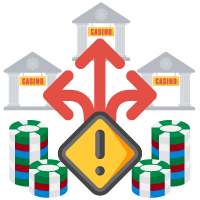 We wish that all gambling sites were safe online casino destinations. Unfortunately, there are disreputable casinos out there. These are sites who have caused such issues that we advise all players in the UK to avoid them.
Avoid These Blacklisted Sites
Let's cut right to the chase. These sites are the worst online casinos in 2023 and we urge all players in the UK to avoid them.
Cool Cat Casino

Very slow payments
Unresponsive support
Unreliable promotions
Casino Fiz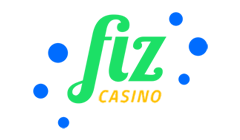 Payment Issues
Shady practices
Unfair promotions
Osiris Casino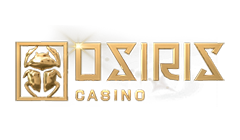 Not delivering on promos
Poor business practices
Slow communication
Conclusion
When getting started, many players simply want the best payout. Online casino UK gamblers should know that it goes beyond that, though. You need to play at a secure online casino to protect your personal and financial data. For a top experience, play at the best online casino UK players can get in 2023.
Frequently Asked Questions About Security
Which are the safest online casinos to play at?
We have a top list of recommended casinos, all of which are complete safe for players from the UK.
Is it safe to play at online casinos on mobile?
Definitely, if a site is using top-notch security protocols, you'll be protected no matter how you access the safe online casino. That said, you should still only use a closed WiFi network to avoid any safety issues on your side of the connection.
What is eCOGRA?
eCOGRA is an independent organisation that audits online casino sites to ensure that they are safe and fair.
How do I know if an online casino is safe?
You can check our list to make sure it appears as a recommended safe online casino. Alternatively, always be sure that the site is licensed by the UK Gambling Commission and uses the latest encryption technology.
Which online casinos aren't safe to play at?
We have a list of blacklisted sites that you can check to find out which sites aren't secure.
Is it safe banking at an online casino?
As long as you play at a safe and secure online casino, banking is totally safe. The best online casinos in the UK use the same security measures as your bank or online shopping portals.