How We Evaluate & Review Online Casinos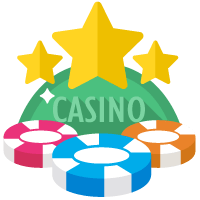 There are many reasons why online gamblers visit this site, ranging from the game reviews through to our comprehensive strategy guides. The main reason for people visiting is simple though – it's so that they can find the best online casinos around, by reading through our numerous reviews. Written by UK experts, these reviews form the backbone of this site, and cover everything you could possibly want to know about a specific online gambling site.
We pride ourselves in our transparency, which is why we've created this page, which will let you know exactly how we review and evaluate online casinos. Every online casino goes through the same process, which ensures that all reviews are completely fair and based on the same criteria. So, you can be completely sure that you're receiving the full and honest lowdown on any specific online gambling site.
Our Review Process
When reviewing an online casino, we follow a strict process, to ensure that we never miss anything that you need to know. Our reviewers will follow the same path in each review, and they will also constantly re-evaluate casinos, to ensure that they are always relevant to the current time. Below, you can see exactly how our reviewers work through an online casino review.
First impressions of a site really are important, and it is often the case that we can tell whether a casino will be good or not in the first few seconds. These initial impressions will give our reviewers an idea of how user-friendly a site is, and they'll also be able to see how aesthetically pleasing a site happens to be – something that might seem shallow, but can really make a difference to your playing experience.
Before we judge any aspect of a site, we'll first sign-up. By doing so, we'll then get access to the full site, and this will allow us to understand exactly what it offers. We'll let you know exactly how easy the sign-up process is, and whether the site makes it tough for you to claim a welcome bonus or not. We'll also deposit some money at the site, so we can check the different payment methods, and see how quickly money is transferred.
When we've deposited money, we won't just simply withdraw it again – we'll use it to play a variety of different games, checking each one to see exactly how good it is. We'll then report on the quality of the games on offer, as well as how many games you can choose from. We'll also gather information on the different software providers, as well as how much you can win when you play some of the games, especially the progressive jackpot slots. As you might imagine, this is one of the most important parts of our reviews, and we take a long time gathering the information.
Throughout the time we spend creating a review, we'll be evaluating the different bonuses and promotions on offer. We'll look at the welcome bonus when we first sign-up with a site, and we'll then look at things such as reload bonuses and loyalty schemes as we continue to use the site. Of course, bonuses and promotions do change over time, which is why we'll constantly amend our reviews to ensure they feature the bonuses that you can currently claim. You can find out more about the different types of bonuses available at online casinos by looking at our dedicated bonuses and promotions page.
Of all the aspects of every review, security is perhaps the most important. We have built a good reputation in the online gambling world, and we would never risk this reputation by recommending a casino that doesn't keep you safe when you play. So, we'll look at everything, from the regulatory body through to the fairness of the games, to ensure that you're always protected when you play. If we think that a site is not safe, we will tell you and recommend that you don't play at the site in question.
6

Customer Service and Withdrawals
When we're nearly finished reviewing a site, we'll make a withdrawal, and we'll be checking to see how quickly these are processed, as well as how many different options there are. We'll also be looking to see if the site charges any fees for withdrawing funds. We'll also contact the casino using all the different contact options offered, in order to see how well the site deals with questions and complaints lodged by players. We won't tell them that we're reviewing a site, so they'll think we're normal customers, so we get an honest overview of how good their customer service is.
Summary
Of course, many of the above sections overlap and impact on each other, which is why when we've finished an online casino review, we'll take a step back and look at the site as a whole. We'll then be able to give a site its overall score, taking into account the scores it has received for the different sections, as well as any other factors we think are important. We'll then publish the review, and you'll be able to find out exactly what we think of the online casino in question!
How We Weight Different Aspects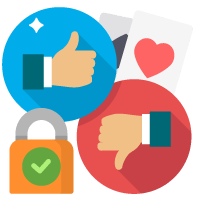 When it comes to our reviews, some aspects of a site are clearly more important than others. For example, the security of a site is clearly more important than how a site looks. For this reason, some aspects carry a heavier weight when it comes to our overall score of a site. When reviewing, the three areas that have the biggest influence on a site's score are the security, the bonuses, and the range of games on offer.
The way in which we come to an overall decision about the final score assigned to a site is a long process, and incorporates many different factors. It also incorporates a number of people, including the reviewer and the editor of the review. By being so thorough with our scores, you can be sure that a site with a high score really is a great place to play – and that a site with a low score really should be avoided!
About Our Casino Review Team
We are incredibly proud to have a fantastic team of online casino reviewers, each of which has a massive amount of knowledge when it comes to gambling online. All of them have played at online casinos for many years, and this allows them to pinpoint exactly what differentiates an average site from a great one – meaning that their reviews are always useful to both new and experienced online gamblers.
There will be no discrepancies when it comes to how each reviewer looks at a site though, meaning that our opinions will always be consistent. This is because our review team all follow the same guidelines. What's more, all reviews are looked over by an editor before being posted, and any discrepancies are picked up in the editing process. We want you to get the most honest overview possible of a site, which is why we take so long producing our comprehensive and informative reviews!
We Always Ensure Reviews Are Up-to-Date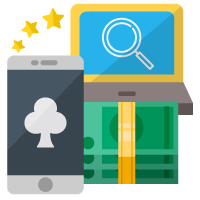 As with all websites, online casinos are always evolving, as they introduce new features for their players to enjoy. Some casino review sites never revisit their reviews, and this means that their reviews can become outdated and irrelevant. This isn't how we work though, as we constantly look at the reviews we've written, and ensure that they have up-to-date information included within them.
So, if a bonus changes, we'll tell you, or if a new game is added, you'll be one of the first to know. We'll even keep a look out for seemingly small changes, such as alternations to the terms and conditions of a bonus, as these can have a big impact on how good an online gambling site is. Essentially, once we've published a review, you can always be sure that it will be relevant to you, regardless of when you look at it.
Because our reviews are always being updated, you should check back as often as possible. In particular, you should look at the reviews of sites you're already a member of, just to see if they are still the best places for you to play – and to make sure they haven't made any changes that could affect your enjoyment at the site.
Find Your Perfect Online Casino Today!
Now you know how we write our casino reviews, you should have a much better understanding of why we think some sites are great, and why we think that other sites are simply not worth signing up with. So, all you have to do now is head to our reviews section and read through the reviews of the different online casinos open to you! Once you've picked the casino that suits you best, you should be ready to start playing your favourite online casino games in a matter of minutes!