Online Casino & Gambling FAQs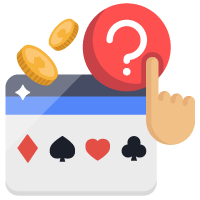 Online gambling can be confusing for inexperienced players, with sites using industry-specific terms that can be misleading and sites focusing on drawing players in without educating them beforehand. We understand that everyone has to start somewhere and have compiled a range of FAQs (Frequently Asked Questions), which will help you make the most of your next visit to an online casino.
We've split the FAQs into a few handy sections, so you can scroll exactly what it is that you're looking for. So, if you've got a question, make sure you check this page first!
General Casino FAQS
What makes a great online casino?
The most important attribute that any good online casino has is security, and we'll only ever recommend sites with the highest levels of security in place. Great online casinos will also offer a large selection of different games, as well as many different bonuses and promotions. You should also find many ways to deposit and withdraw, as well as great customer service.
How do I sign-up with an online casino?
Signing up with an online casino is incredibly easy, and it starts with you clicking on the 'Join Now' button. You'll then need to input some personal details, such as your name and email address. After you've submitted the form, you'll need to verify your registration by clicking on a link in an email. You'll then be ready to start playing at the online casino!
What depositing and withdrawal options are there?
Most online casinos offer a large variety of depositing and withdrawal options, however the most popular is credit/debit card. If you don't want to use this method though, you'll also find options such as Skrill, Neteller, and sometimes even PayPal. You'll see which options are offered at a site when you read through their review.
Is it safe to play at an online casino?
Providing you play at an online casino we've recommended, you will be completely safe. This is because we only recommend casinos with high levels of security, as well as casinos that are regulated by the UK Gambling Commission. All casinos we recommend have also had the fairness of their games verified by an external organization.
What is the UK Gambling Commission?
The UK Gambling Commission is the government body tasked with regulating all online gambling sites offering services to players in the UK. It is a legal requirement that any site accepting UK players must be registered with the UKGC. If a site isn't registered with them, you should avoid the site, as it clearly isn't operating within the law.
What games are there at online casinos?
You'll find loads of different games at online casinos, however most games are online slots. If you're not a slots fan though, you'll still find something great to play, as you'll also find table games, video poker and scratchcards. There's also usually a live casino, which makes playing online more realistic than ever.
How much can I win at online casinos?
Most people who make money at casinos do so over a long period of time, however it is possible to win some huge sums of money really quickly. These huge sums of money are generally won at progressive slots, as the jackpots at progressive slots can be worth millions. The basic rule at casinos is this though: the higher the RTP of a game, the more chance you have of making money.
Slots FAQs
Online slots are really easy to play, as there is absolutely no skill required at all. In a nutshell, you simply choose how much to bet, and then spin the reels. If you manage to get a winning combination, you'll then win your bet per payline multiplied by the amount shown on the paytable. It really is that simple!
Are there any tactics I can use?
In a word, no. Because online slots are completely based on luck, there is nothing you can do to influence the way in which the reels land. You can use bankroll management though, to ensure you don't lose all your money quickly, and you should also make sure you play the slot that has the highest RTP.
How do progressive slots work?
Progressive slots are some of the most popular slots around, thanks to the huge jackpots they offer. These jackpots aren't fixed, but instead rise as more and more people play the game. They then reset when someone manages to win the progressive jackpot. They are really tough to win, which is why they can rise to millions and millions of pounds.
What are the best online slots?
This is really down to personal preference, and there are thousands of different slots for you to choose from. Some of the bigger names in the slot producing world are Microgaming, Playtech and NetEnt, and you can almost be sure that any game they produce will be absolutely fantastic, and also have some huge prizes.
Are all slots the same?
No, they certainly aren't, as online slots come in a huge range of different themes and complexities. Some will prefer the classic slots, which have little or no bonus features, and play as old slot machines used too, while others will prefer modern video slots, with fantastic graphics and many different bonuses. Whatever your tastes, you'll be able to find a great online slot!
Table Games FAQs
What different table games are there at online casinos?
You'll find that the majority of the table games at online casinos are blackjack and roulette, and that there are many variations of each. You'll also be able to find baccarat and three card poker though, and some online casinos even offer craps and pai gow. Essentially, whatever game you like, you'll be able to find it somewhere online.
Can I use any tactics at table games?
There are various tactics that purport to guarantee profits when you play different table games, however these should be avoided. This is because these tactics work in principle, but rely on you having unlimited money, which is never the case. Instead, just enjoy the game and treat any wins as a bonus.
How much can I win when I play?
This really depends on the game, and the higher the potential prize, the lower the chances are of you winning it. When playing table games though, you'll not usually have the chance to make money quickly, as you can with slots. Instead, successful players take their time and accrue profits over months and years.
Are there many different varieties?
Perhaps the biggest advantage to playing table games online is the fact that there are so many different variations of each game. The majority of table games are variations of roulette and blackjack though, and these variations include subtle - and not-so-subtle - changes to the way in which the game is played. You should try them all, to see which you like best!
Can I use bonuses to play table games?
Yes, you can usually use bonus funds in order to play table games, however they don't often count fully towards the rollover requirement, as it is easier to win money on them than it is at slots. So, if a rollover requirement is 30x and you want to play blackjack, you might find that it only counts for 10%. This means that the actual rollover requirement would be 300x.
Live Casino FAQs
What are live casino games?
Live dealer casino games are the latest addition to many online casinos, and they bring the most realistic playing experience ever. This is because a real dealer will be beamed to your screen using a webcam, and you can chat and interact with the dealer, as you would in a land-based casino. The rules of the games are the same though, so it's easy to make the transition.
How do they compare with standard games?
Live dealer games have the same rules as standard online casino games, however the gameplay is much different. The biggest difference is the fact that live dealer games are slower, as you'll have to wait for all players to take their turn before the game advances. Live dealer games also often have higher minimum bets.
Can I play live games on a mobile?
Many online casinos offer players the chance to play live casino games using a mobile device, however they look best when using a desktop. If you want to play using a mobile though, make sure you are connected to a strong internet connection, as they won't work well on a low quality 3G connection.
Are live casino games fair?
Yes, live casino games are completely fair, and they will undergo the same testing by external organizations as standard online casino games. The fact that you can see the dealer shuffling and dealing the cards should also provide you with an extra piece of confidence that the games are completely trustworthy.
Do all casinos have live games?
Most online casinos now have live dealer games, as they recognise the fact that many people now prefer these games to the standard games found at casinos. There are a few casinos that have been slow to add them though, and we'll tell you in a review if an online casino does not offer live casino games.