Most Played Mobile Games Across Each Country (List from A-Z)
Do you want an escape from your mundane life? Why don't you follow suit with the world and download some mobile games? Did you know you can download the most popular game in the UK right from the app store! You can even try your luck at the most popular game played in a country of your choice. It could be Japan, or perhaps you're curious about Mozambique? Or are you curious about Mozambique? Either way, you can find different mobile games as per their popularity in different countries. To ease your curiosity, we have listed all of them!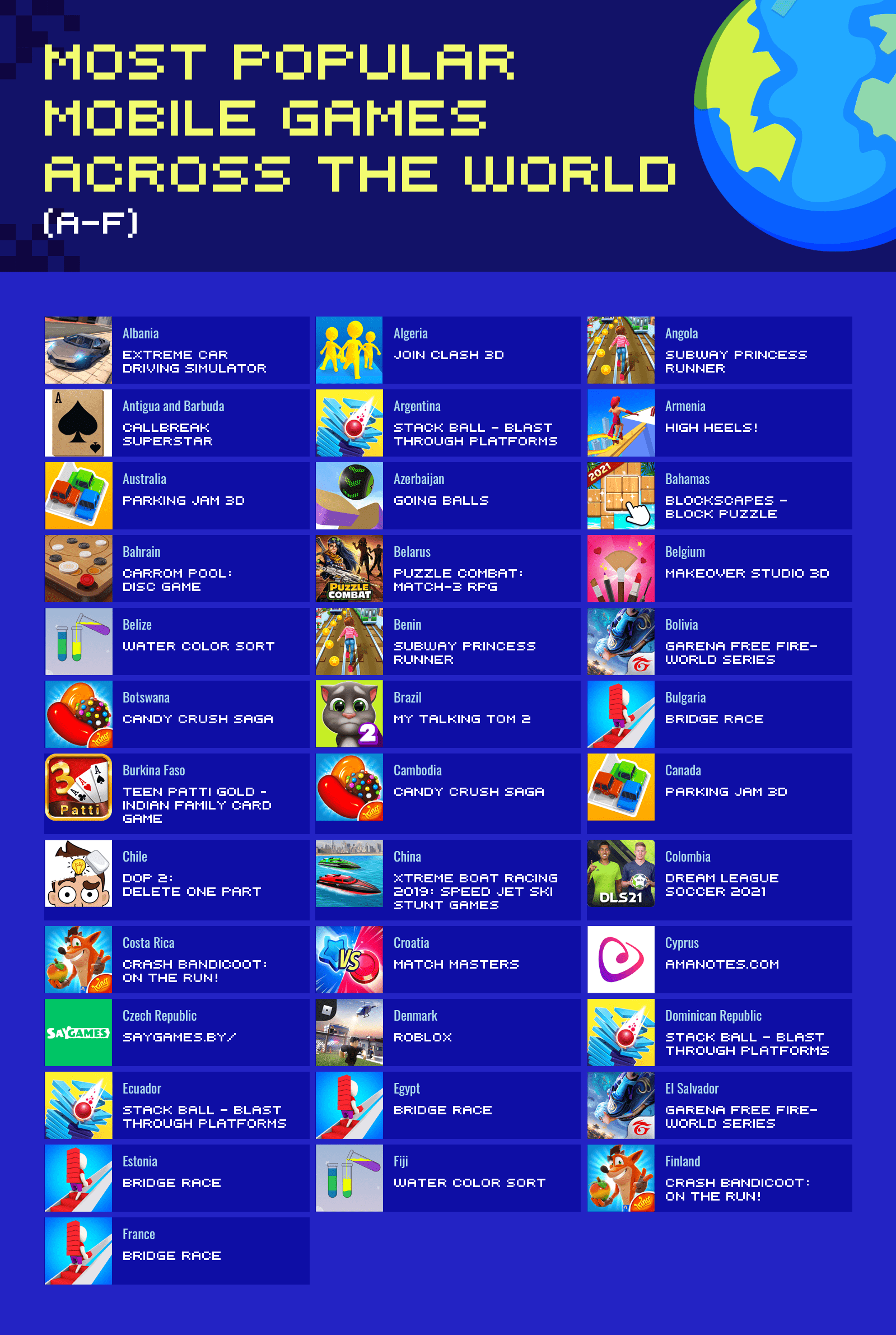 It's interesting to see the games each of these countries are playing. For instance, Bridge Race is the most played game in Bulgaria, Egypt, Estonia, and France. All four countries are very different, but players favour the same game. Bridge Race is also the top game for a total of 15 countries according to our research.
This shows that there is no correlation with a person's culture or even mindset for that matter in the choice of mobile game. Looking at the trends we can see that mobile games are not restricted to age groups depending on the country. For instance, the most played game in Brazil is My Talking Tom 2 which is mostly played by children is still the country's number 1 choice.
One common theme is that most of these games are strategy-based. You have to navigate through obstacles in each of them. It's interesting to notice as there are many other shooting games, which many people like to play. These games made it to the top shows that people are more inclined towards mentally challenging games.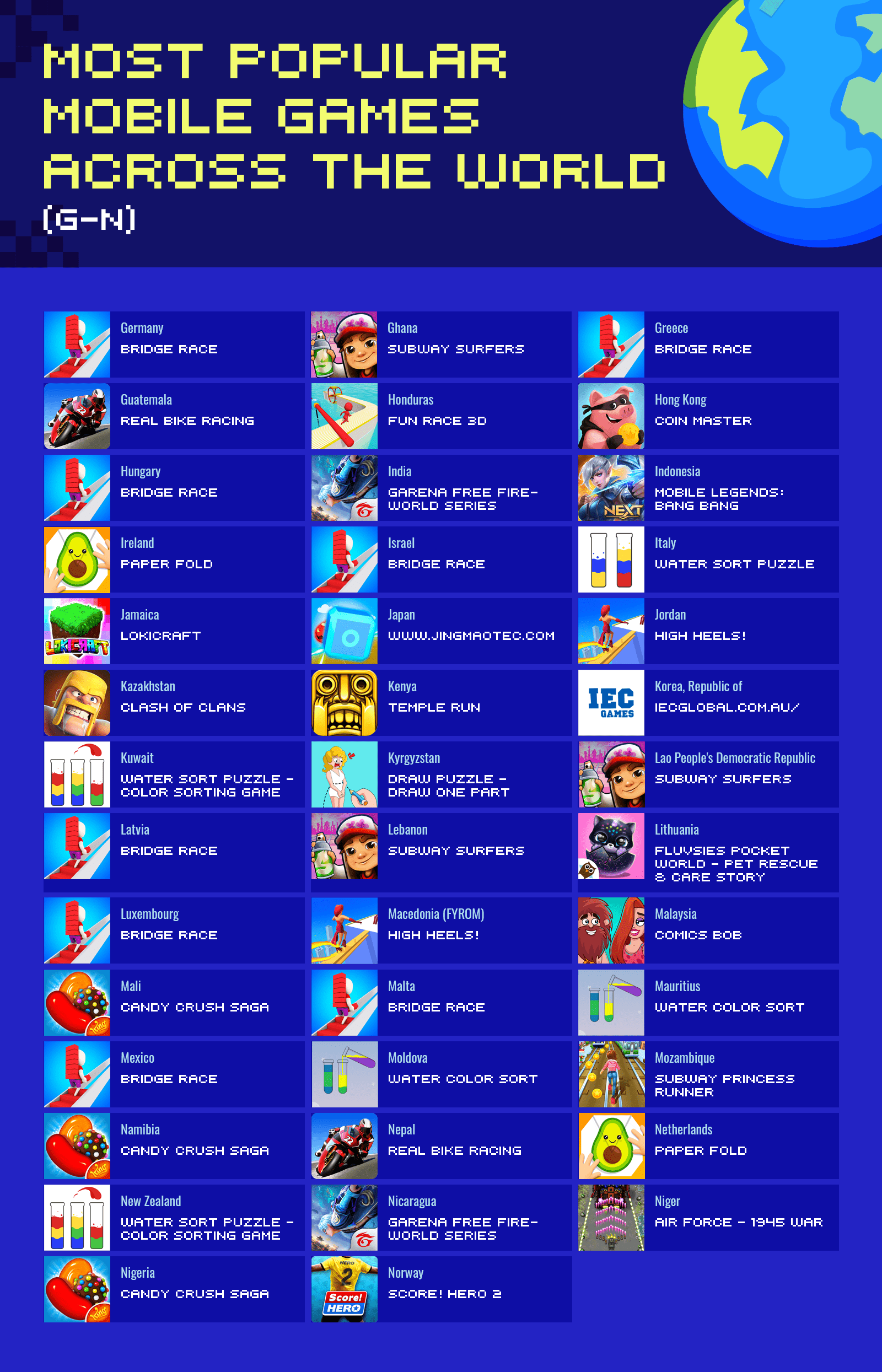 Moving on to the countries from the G to the N, you can see the same trends as above. The most common game among these countries is yet again Bridge Race. A striking number of 7 countries among this slot have it as their topmost played game.
You can also see a keen interest in sorting games that are common in a couple of countries such as New Zealand, Italy, and Mauritius.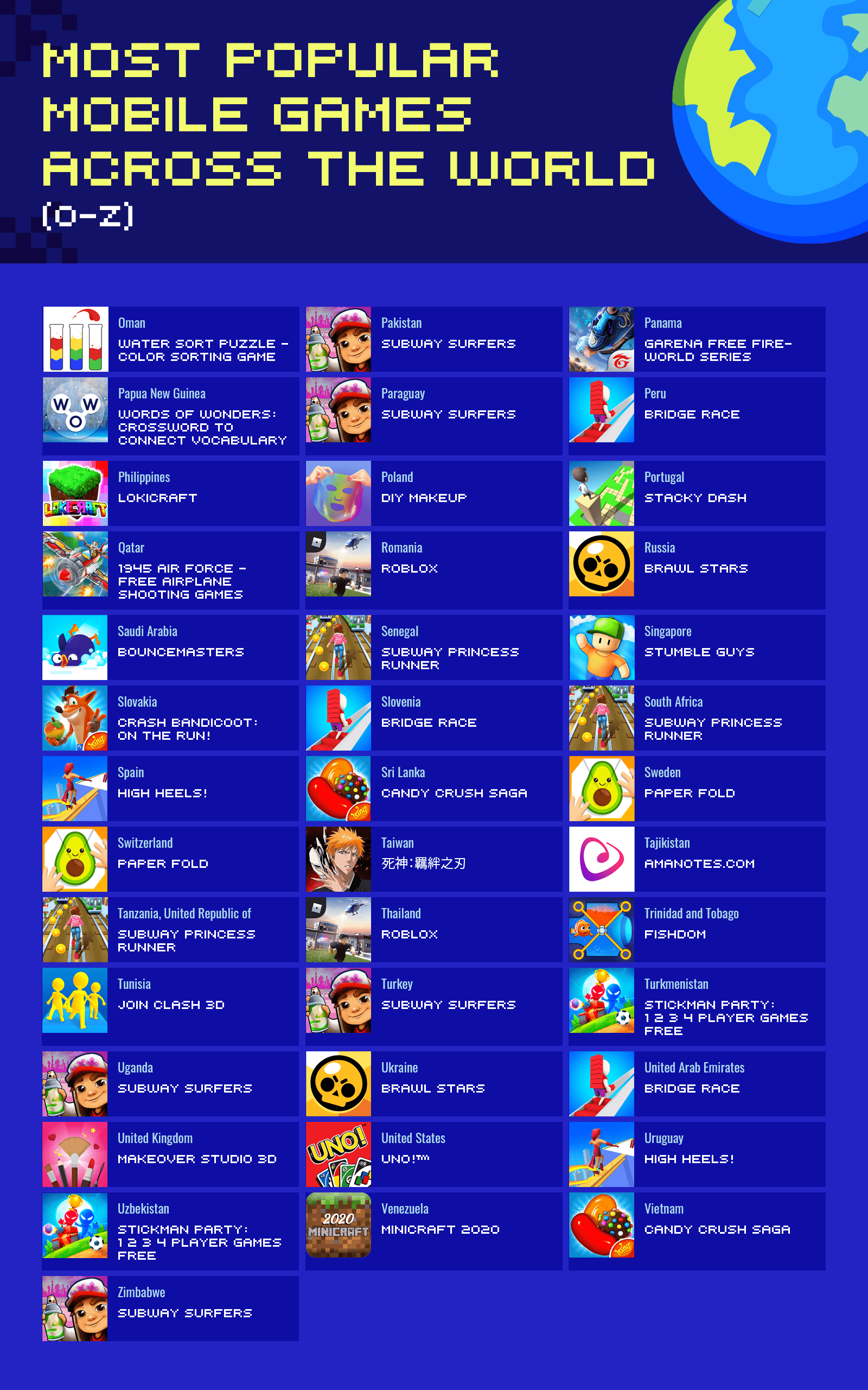 The last slot we have is of countries from O to Z. In this slot, the most played game is Subway Surfer which appears five times on the list. What stands out here is the United Kingdom who favours Makeover Studio 3D. Since the game has a very specific target audience it sparks our curiosity that it also tops the chart for Belgium. Why is it the top game? We don't know, but we know we love it.
Top 6 Most Popular Mobile Games In The World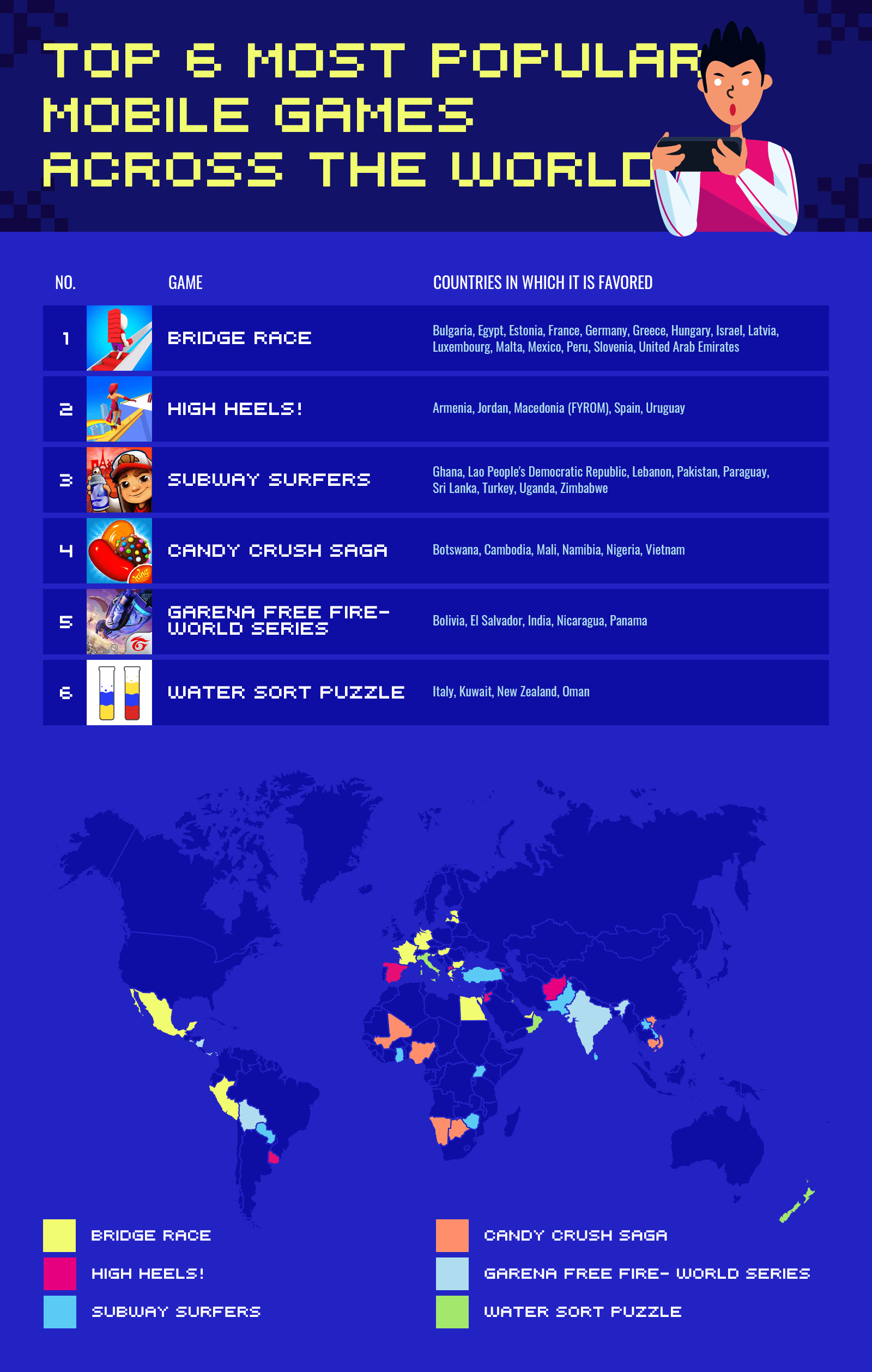 The world finally unites but sadly on mobile games! These games are the most popular ones across the world. People with different languages and different cultures enjoy playing these games above all which is quite interesting. Let's take a deeper look into each game:
Bridge Race
Bridge Race has been very popular as a mobile game and is popular in the countries like Bulgaria, Peru, and Mexico as illustrated above. This game has been downloaded 651,775 times on the Google play store and 2 million times on the Apple store. Bridge Race is quite simple yet addictive. You only have to pick the logs of your colour and then build the bridge using them. Just don't let the others build on your bridge.
High Heels
High Heels stand in the second position and can be seen as very popular in countries like Jordon and Spain. If you like High Heels, catwalk, and fashion designing, this game is the best fit for you. With the help of this game, you will be able to channel your inner fashionista and design the best shoes possible. This game has a 4.6 rating on the Apple store which surely accounts for its popularity.
Subway Surfers
Downloaded 36,099,366 times, Subway Surfer is a very popular game around the world. It connects different corners of the world like Ghana, Sri Lanka, and Turkey. It also holds the 5th position for the action game in the Apple store.
Candy Crush Saga
Who hasn't played Candy Crush Saga? This game can surely tickle your sweet tooth which is why it has around 31,871,889 downloads on the Google play store. Not only is the game addictive but it is a great way to freshen up your mind.
Garena Free Fire- World Series
This is the only shooter game in this series that has made it this far. It is very popular in countries like India and has a following around the world. With 94,048,125 in total on Google play store, it holds a 4.2 rating.
Water Sort Puzzle 
Last but not least on the list is Water Sort Puzzle. This game is found all over the world in different variants but this is the most common version of it.
Methodology 
To collect the data for the most popular video games, we have used SimilarWeb as a source of information. There were three choices available: Top Three, Top Paid, and Top Grossing. Since the free applications were the most accessible, we included them in our content.
Then they were ranked using an algorithm called the "Usage Rank". The scoring on this algorithm is based on current installs, active users, category, and Leaderboards. The ranking is based on 28 days. The most downloaded section was made using 42matters.com. They are a paid service that offers a 14-day trial period. These applications are ranked according to their monthly downloads for each country. Using the filters, games, and monthly downloads we were able to talk about the free most downloaded games of a specific country.