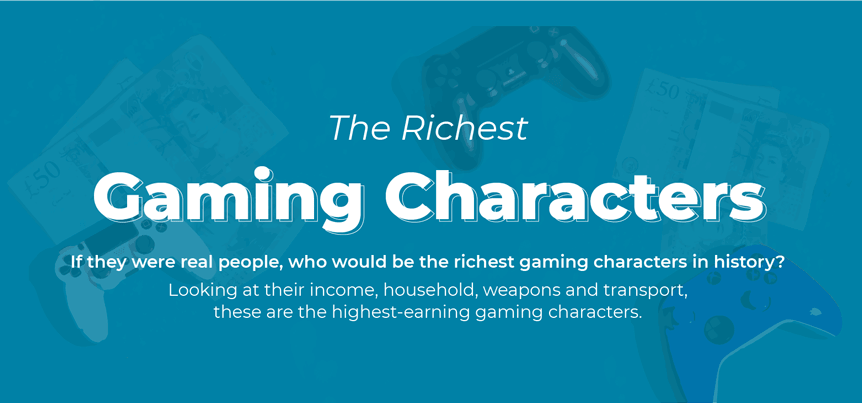 Richest Gaming Characters: THIS is how much our favourite characters would be worth in real life!
Many of us have spent hours living the life of famed gaming characters such as Tomb Raider's Lara Croft, GTA V's Michael De Santa and even Bella Goth from The Sims – exploring their worlds through their eyes and helping them out along the way.
But what would their lives look like if these gaming characters were real people? And how much would they be worth? Calculating their net worth through their jobs, household income, assets and transport, we've estimated the wealth of our favourite gaming characters if they walked among us in our world.
So, who takes the top spot?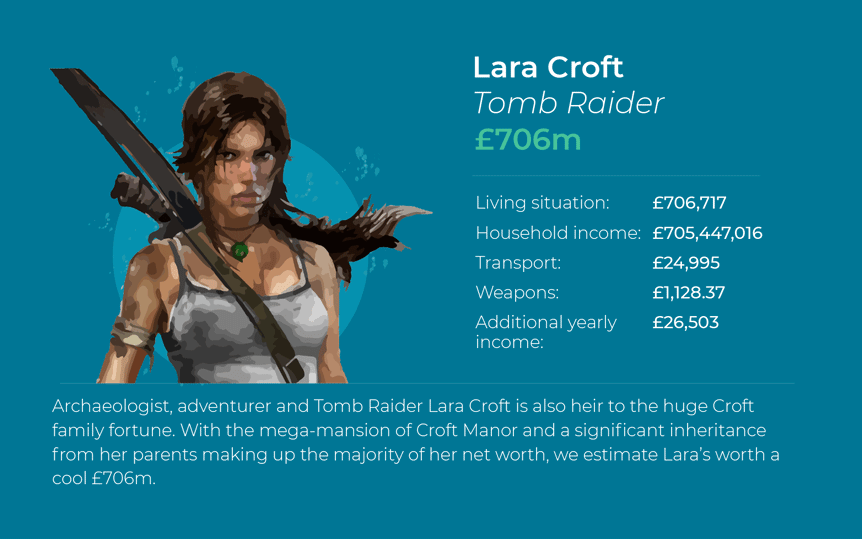 Lara Croft (Tomb Raider) - £706,179,856
Lara Croft is a famous archaeologist, treasure hunter and of course - tomb raider – and she tops our gaming characters rich list. Born into an incredibly rich aristocratic family to parents Lord and Lady Croft, Lara grew up in mega-mansion Croft Manor but is generally disinterested in upper class society. Instead, she uses her wealth for her infamous expeditions and is far more interest in delving into the secrets of the past than following in the path of her parents.
If Lara lived in the real world, she'd be worth an estimated £706m - a fortune amassed from her inheritance from her parents, antiques, iconic dual pistols and Land Rover Defender used in the 2018 film. Plus, she can be expected to top up her net worth with an extra £26,503 as her official job as an archaeologist. So, she has plenty of money for endless expeditions to come!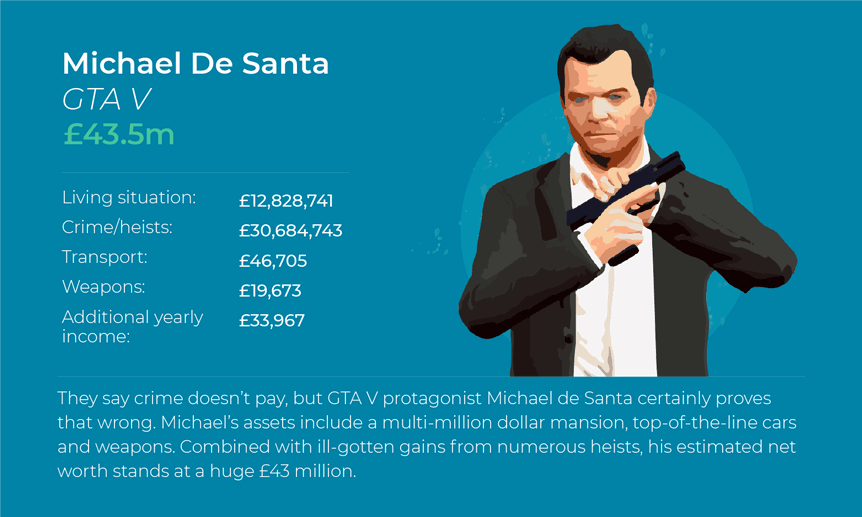 Michael De Santa (Grand Theft Auto V) - £43,579,862
One of the lead protagonists in the ever-popular Grand Theft Auto V, Michael De Santa has certainly had a chalky past! From being in prison at an early age to running a prostitution ring, armed robbery and even faking his own death, Michael gave up his criminal past to live in Los Santos with his family. Michael resides in a multi-million dollar mansion in the game's equivalent to Beverly Hills, but still can't escape his desire to live a life of crime and the financial rewards it reaps.
He may not have earned his estimated £43.5 million fortune legally – but has amassed his wealth from numerous heists and his assets that not only include his mansion, but cars, bikes and weapons. If only money could buy him happiness!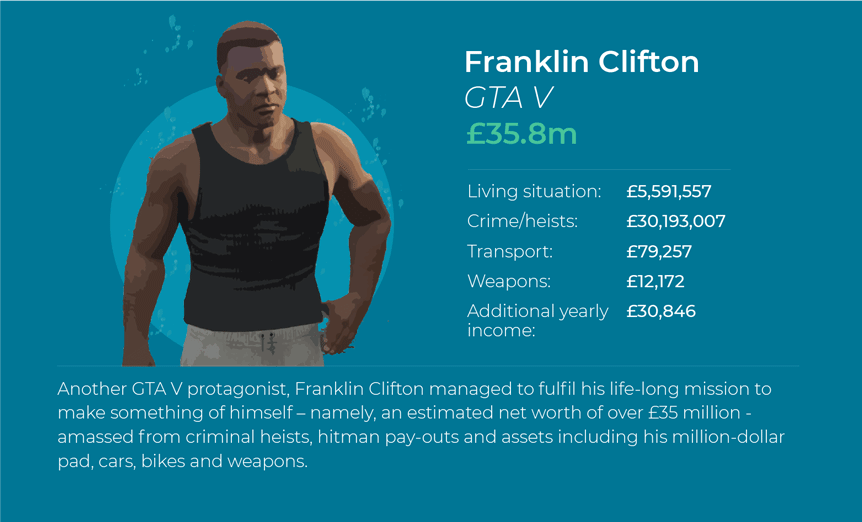 Franklin Clifton (Grand Theft Auto V) - £35,875,993
Another Grand Theft Auto alumni, Franklin Clifton comes in third place on our gaming characters rich list. Having lived his entire life in Los Santos, Franklin hasn't lived an easy life, having been abandoned by his father, expelled from his school and being sent to prison numerous times throughout his life, always returning to a life of crime. Despite an attempt to move away from the life of crime, Franklin is dragged into Michael's life and is fully reaping the financial rewards of his decision.
Franklin has an estimated net worth of over £35.8 million, amassed from his criminal heists, hitman pay-outs and assets including his million-dollar Vinewood Hills Pad, cars, bikes and weapons. It seems a life of crime is really paying off for Franklin …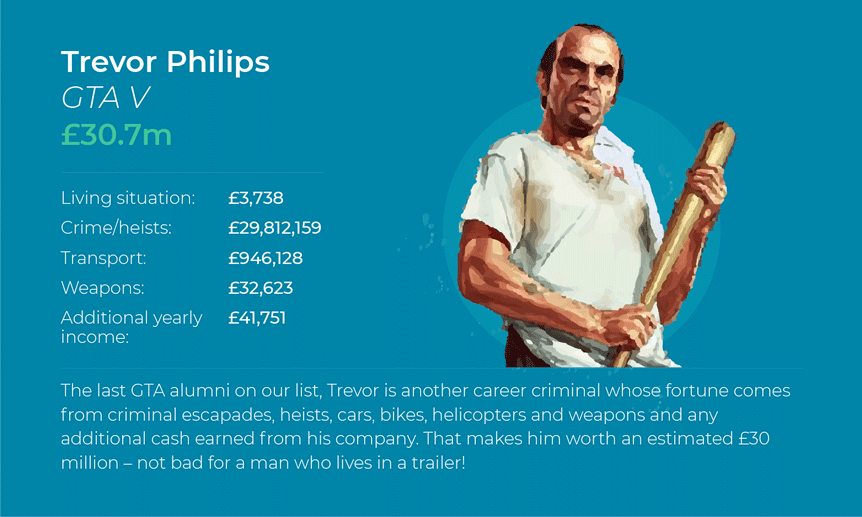 Trevor Phillips (Grand Theft Auto V) - £30,794,648
Our final GTA alumni, Trevor comes in fourth place on the list. Born and raised in Canada, Trevor is a hardened criminal with a very troubled past. Moving around states, living in fourteen different homes and two correctional facilities, a life of crime was always in his path. Now founder of his own company, Trevor Philips Enterprises, he mostly makes ends meet by operating some not so legal activities.
He may not live in a swanky pad like Michael or Franklin, but Trevor has amassed his estimated £30.7 million fortune from his criminal escapades, heists, cars, bikes, helicopters, weapons and anything further he makes as a businessman. Not a bad fortune for a man who lives in a trailer!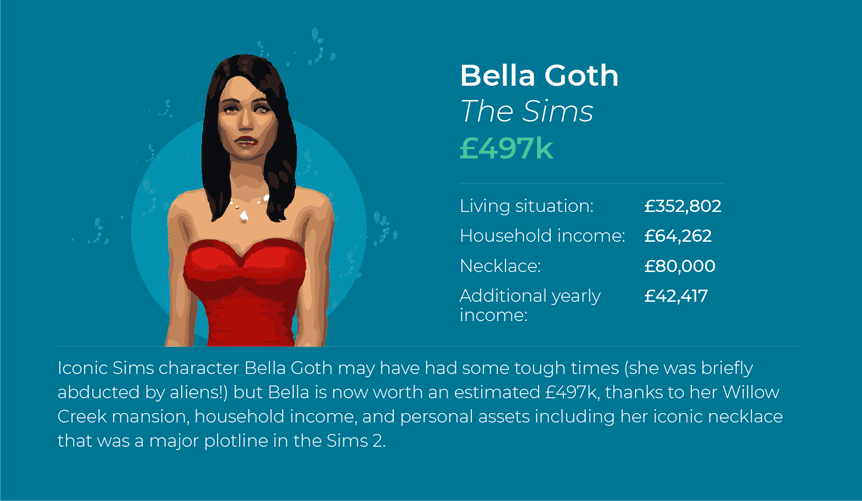 Bella Goth (The Sims) - £497,064
Bella Goth is one of the most iconic characters in the Sims franchise. Married to the richest man in the game, Mortimer Goth (who she may or may not have married for money) Bella has undergone a difficult time in the Sims, and spent the entire Sims 2 game missing after being abducted by aliens! By Sims 4, she has settled in her new life in Willow Creek with her husband Mortimer and two children, Cassandra and Alexander, and is seemingly living the Life of Riley.
Bella's estimated £497k fortune has derived from her Willow Creek mansion, £64k household income (if you play the Goths in Sims 4) and personal assets including the necklace she wore in Sims 2 that was a huge plotline. Plus, she also rakes in an additional £42,417 on top of this in her job as an Intelligent Researcher in the Secret Agent service.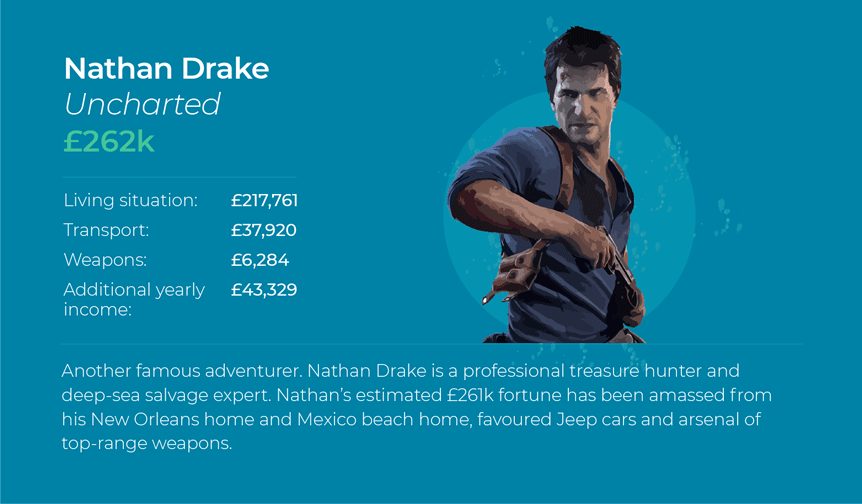 Nathan Drake (Unchartered) - £261,966
Lead of the popular Unchartered video games, Nathan Drake is a professional treasure hunter, adventurer and deep-sea salvage expert. The Uncharted series follows him, Elena Fisher and Sully on their travels across the world to uncover various historical mysteries. He eventually marries Elena Fisher and settles down in New Orleans with her and their daughter, Cassie and set up a legal salvage business, D&F Fortunes.
Over the course of the franchise Nathan has collected hundreds of treasures likely worth billions – but these cannot count towards his net worth as not only are they illegal, but he is a collector and doesn't want to make millions from his treasures. So, his estimated £261k fortune has been amassed from his New Orleans home and Mexico beach home, favoured Jeep cars and weapons too. He can also be expected to add £43,390 to his fortune each year from his income as a marine salvager and business owner.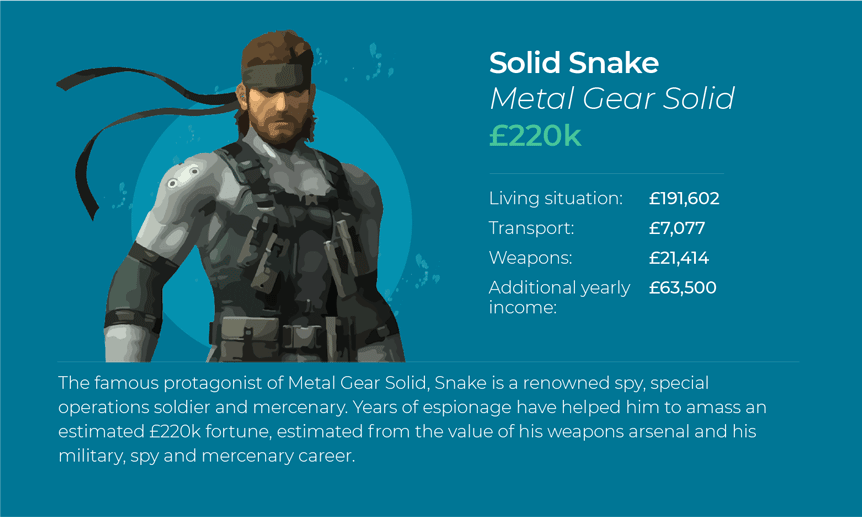 Solid Snake (Metal Gear Solid) - £220,094
Former spy, special operations soldier, and mercenary, Solid Snake was a clone of world-renowned soldier Big Boss and was inducted into the High-Tech Special Forces Unit FOXHOUND while it was commanded by Big Boss. Repeatedly tasked with disarming and destroying the latest incarnation of Metal Gear, a bipedal nuclear weapon-armed tank, Snake averted potential nuclear catastrophes time after time, becoming a famed war hero and a living legend among the military black ops.
Outside of his military accomplishments, Snake leads a relatively solitary and humble life, living by himself in Twin Lakes, Alaska. His estimated £220k fortune has been amassed from his weapons and home, with his military, spy and mercenary career adding £63,500 to his fortune each year.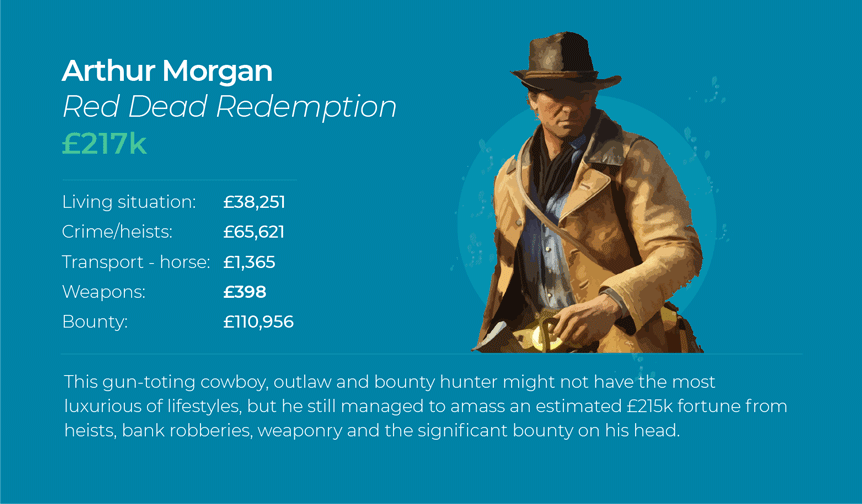 Arthur Morgan (Red Dead Redemption) - £216,592
Born in 1863, Arthur Morgan is the lead protagonist in Read Dead Redemption 2. Losing both parents at an early age, Arthur was a wild delinquent who became a founding member of the Van der Linde gang. Becoming an outlaw and bounty hunter to earn a living led to him committing crimes and taking out anyone in his way. No wonder he had such a bounty over his head!
His estimated fortune has been amassed from his heists, bank robberies, weaponry and even his Mahogany Bay Tennessee Walker Horse. It was 1899 after all!
We've lived through plenty of adventures and escapades playing through the eyes of these famous gaming characters – and it's really interesting to see how much they could be worth if they too walked among us.
And if you are looking to swap the video games for online casinos, we can help you choose the best one to play in with peace of mind. Find out more about how we can help you on our helpful guides.