Guide to Depositing and Cashing Out at Online Casinos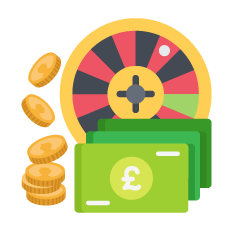 Although casinos let you play games just for fun, playing for real money is far more popular. Not only are games infinitely more exciting when real money is involved, but it's possible to hit the jackpot even if you play for modest stakes. Still, some players have reservations about depositing money. Fortunately, funding your account is quite simple when you have a helping hand. Keep reading this guide and we'll walk you through the entire process. We'll even show you how to claim your winnings.
Before You Begin
Before making a deposit, you'll obviously need to find a place to play. Whether you want to enter a poker tournament, try your luck playing fruit machines, bet on football, play blackjack, or enjoy any other forms of gambling, there are fantastic internet casinos in the United Kingdom. You'll find reviews, ratings, and recommendations, throughout this site.
No matter what type of bet you place and where you play, you'll want to make sure you choose a site that is fully licensed by the UK Gambling Commission. When you visit a site that's regulated by the UKGC, you'll know that the games are fair and your money is safe. There's no need to take chances with unlicensed and potentially rogue casinos. Once you find a site, sign up by following the onscreen instructions. You may need to download or install apps, but these tend to be optional. You can learn more about the sign-up process by reading our getting started guide.
Even if you've never gambled before, you can sign up, deposit, and play for real money in a matter of minutes.
Depositing Your Pounds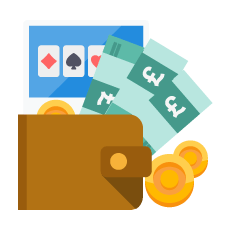 Once you chose a gambling site and register, which won't take more than a few minutes, you're ready to fund your account. If you've ever purchased anything from a shop online, making a deposit at an internet casino won't be much of a departure. Instead of ordering clothing, gadgets, furniture, or books, you'll be purchasing casino chips. While internet shops use a shopping cart and checkout system, casinos and betting sites conduct financial transaction in the cashier. Just look for an icon featuring a pound symbol or the word cashier and click on it.
Although every gambling site is a little different, you'll find that the cashier is always well laid out and self-explanatory. Just enter the amount of your deposit, choose your desired payment method, and follow the onscreen instructions. If you are depositing using a credit or debit card, you'll be prompted for your card number, name as it appears on the card, security code from the back of your card, billing address, and expiry date. When using an electronic wallet like PayPal, you'll be asked to log into your e-wallet account to authorise the transaction. Users of prepaid vouchers will need to provide the card PIN or activation number. We'll examine the most common payment options as well as their advantages below. You'll also want to enter your bonus code in the promo box if you have one.
When depositing your money, each method has its own minimum and maximums. You can usually find this info within the cashier or in the casino's help section. If you have any issues whatsoever, it's not hard to reach a customer service agent who can assist you with your deposit by phone or using live chat.
Choosing a Banking Method
British gambling sites want to make it as easy as possible for you to wager real money. They know that if you encounter any obstacles, you'll simply head elsewhere. For this reason, casinos offer a wide range of betting options, most of which let you play immediately. Whether you prefer using a familiar payment method or want to try something new, there are always multiple ways to get in the game. Although credit cards are the most popular payment method, you don't need plastic to gamble online in Britain. Here are the most common methods you're bound to encounter:
Credit Card
Whether you prefer Visa or MasterCard, just about every licensed site will let you play instantly using your credit card. Don't forget that both cards offer zero liability guarantees, which means you'll never be on the hook for unauthorised charges.
Debit Card
Debit cards let you fund your casino account using funds that are already in your bank account. It's an ideal choice for players who want to avoid the possibility of racking up debt. Most gambling sites welcome Visa, Electron, MasterCard, and Maestro debit cards.
Electronic Wallets
Although PayPal is the most popular electronic wallet, gambling sites also accept Skrill and Neteller. No matter which type you use, you can count on an additional layer of security and lightning fast payments.
Bank Transfers and Wires
Transfer funds directly through your bank using a traditional wire or transfer. Depending on your bank you may be able to arrange this online or through your local branch.
Apple Pay
Enjoy the convenience of using your credit card or debit card without having to reveal or manually enter your card details.
Vouchers and Virtual Prepaid Cards
If you don't have access to conventional plastic or aren't comfortable using your credit card or debit card online, most sites welcome virtual prepaid cards and vouchers. Choose recognisable names like Entropay, Paysafecard, and EcoCard.
Bitcoin
Many gambling sites accept the cryptocurrency either directly or through third party services. Bitcoin is the most discrete way to play for real money and it's quickly gaining traction.
How To Deposit in 5 Easy Steps
Choose a gambling site by browsing reviews and ratings.
Create your online casino account.
Visit the cashier, enter the amount you wish to deposit, and choose your banking method.
Follow the onscreen prompts and enter your card, banking, voucher, or e-wallet info before clicking to confirm.
If you entered everything correctly, your payment will be processed instantly in most cases and you can start playing.
Cashing Out Your Winnings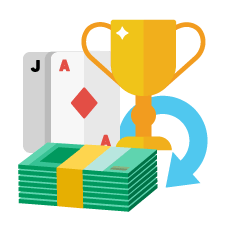 Whether you hit the jackpot or want to withdraw a few quid for safekeeping, reputable casinos won't make you jump through too many hoops to get paid. When you're ready to cash out just visit the cashier. You'll be prompted to enter the amount of money you wish to cash out and the method you wish to use. Many of the payment options listed above are suitable for deposits as well as cashing out. Just note that some withdrawal methods may only be available to players who have used that same method to make a deposit.
Just keep in mind that withdrawals aren't instant as they are usually subject to manual processing. Fortunately, trusted betting sites are always transparent about their timelines. Withdrawals using electronic wallets are usually the quickest and you can often get your money the same day. Credit cards tend to be slower since transactions are effectively at the mercy of either the Visa or MasterCard network, which tends to be slow.
When cashing out for the first time, you should be prepared to show ID. Sites make it easy to upload or email photos, which you can quickly snap on your smartphone. This process is designed to curb fraud, deter underage gambling, and keep criminals at bay. You'll usually only have to complete this process once and it's possible to submit your documents as soon as you register. Also, if you claimed a promotional offer when making a deposit, you may be required to satisfy some wagering requirements before withdrawing your bonus cash. You can usually track the status of your bonus in the cashier.
Banking on Casino Security
If you're new to online gambling, it's perfectly natural to have safety and security questions. In a world where privacy is top of mind and identity theft is a legitimate concern, you can never take too many precautions. Luckily, reputable casinos aren't willing to take chances when it comes to your security and privacy. The leading gambling sites use the same level of encryption as leading financial institutions. Some sites go even further with advanced fraud protection to ward off hackers and cyber threats. Casinos tend to be proud of the great lengths they take to protect you and usually advertise that fact.
Deposit and Withdrawal Fees
Although deposit fees are a bit of a rarity in the United Kingdom, you will find that some betting sites do charge small service fees when withdrawing. The good news is these are less common than they used to be. It's entirely possible to find poker rooms, casinos, and online bookmakers that don't charge any type of fee. Even the sites that do charge nominal fees, usually offer players a couple of free options. If you are concerned about wasting your winnings on fees, it definitely pays to shop around a little. As we mentioned, UK casinos are transparent and post all this info in their help sections.
Get More From Your Games With Bonuses
What's particularly great about playing on the internet is that casinos end up competing for your business. Since there are hundreds of places to wager online, gambling sites know that they need to attract your attention. The most effective way to do this is by offering players just like you generous bonuses. It's possible to get free spins and hundreds or even thousands of pounds when you sign up. You can also make use of regular promotions and loyalty programs to increase your returns.
Top