How to Profit from Online Casino Tournaments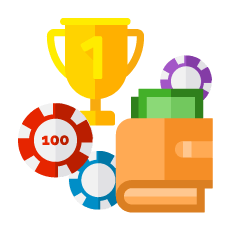 While most casino players are familiar with poker tourneys, you can play gambling favourites like slots, blackjack, and other table games in a tournament format too. The beauty of tournaments is you can win big without risking much money, all while enjoying the games you love the most. Plus, you can find tournaments online as well as at live casinos. Yet the best thing about playing in a tournament is the competition. If you're ready to unleash your competitive spirt, you'll want to continue reading this guide as our experts run down everything
you want to know about casino tournaments.
Making Sense of Slot Machine Tournaments
Slots have a lot going for them. Not only are they incredibly easy to play, but you can potentially win big jackpots by placing small bets. Yet just like other games of chance that don't require much brain power, they can get repetitive. As you might be able to guess, tournaments are the antidote to slot machine monotony. Besides having the chance to win guaranteed prizes, you'll enjoy the added excitement of battling your peers for slots supremacy.
If you're ready to enter a slot machine tournament, there are a few things you need to know. First, most slot machine tournaments are based around a single title. Of course, most gambling sites run tournaments for at least a few different titles, so you can easily find games that will appeal to you personally. You can find scheduled tournaments, which are advertised days or weeks in advance and start at a set time, and sit and go tournaments that begin immediately after a set number of players join.
Every tournament features an entry fee, although it could be £0 if you are playing a freeroll, and prize pool, which is either an advertised amount or a pot that is determined when the event starts. Before entering a tournament on the internet, you'll need to set up an account at the online casino and make a deposit if your bankroll isn't big enough to cover the entry fee. You can learn more about signing up in our getting started guide.
How to Enter an Online Casino Tournament
Create a casino account if you don't already have one.
Download software if required or launch the casino in your browser.
Visit the tournament area and browse the events.
Click register to participate in a tournament.
Unless you are registering for a freeroll, you'll need to pay an entry fee.
Visit the cashier if you need to make a deposit to cover your buy-in.
Create a nickname or alias to use during tournament play.
Begin playing at the scheduled time or when prompted.
Have fun and good luck!
Playing to Win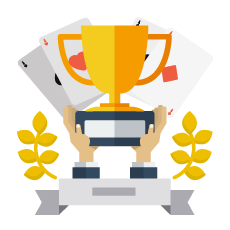 After registering for a tournament, paying your entry fee if required, and creating your nickname for the leaderboard, you'll want to read the rules if you haven't already. In most slot machine tournaments, the person who has the most credits at the end of play wins, but some tournaments have multiple rounds. Either way, you'll begin playing with the same number of credits as the other players.
Since you'll only have a set amount of time to play, we highly recommend that you play the maximum number of lines and credits. Remember that you are competing against other players and the clock. If you're playing a game with interactive bonus features, make sure you play them right away. The clock doesn't stop and you aren't the only one reading these tips right now.
After the clock runs out you can visit the leaderboard and see how you measure up. If your tournament opponents are still playing, your ranking may fall before it is all said and done. Once everyone takes their turn, you'll either move onto the next round or prizes will be awarded in accordance with the rules.
Casino tournaments add even more excitement to your favourite games. Plus, you can win huge prizes for a modest entry fee.
Introduction to Blackjack Tournaments
Anyone who has tried their luck at a blackjack table knows the game requires knowledge, skill, and discipline. You'll need to bring your mastery of the game to the tables when playing twenty-one in tournament format. When you enter a blackjack tournament, you'll usually need to pay a fixed entry fee. In exchange, you'll receive chips, which you'll use to play blackjack. Most online blackjack tournaments pit you against the dealer, but at the end of the tournament, the player who ends up with the most chips will be declared the winner and win the advertised prize. There are usually rewards for other top finishers depending on the structure of the event.
When playing at a live venue, you'll often find blackjack tournaments that let you compete directly against other players rather than the house or dealer. This format is definitely more appealing to poker fans, especially since it turns blackjack into a social game filled with a healthy dose of rivalry.
Blackjack Tournament Formats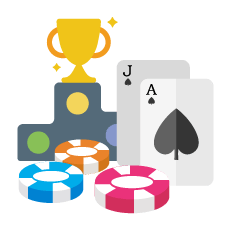 If you've ever played in a poker tournament, you're well aware that there are so many different tournament structures. The same goes for blackjack tournaments. You'll find elimination tourneys that pare down the player pool over a series of rounds, as well as non-elimination tournaments that have just one round. Naturally, you can find single-table and multi-table tournaments, which consolidate the dwindling player pool to fewer tables as the rounds go by.
Just like the slot tournaments, you can find sit and go as well as schedule tournaments. While you might appreciate the on-demand nature of a sit and go, which will begin shortly after all the seats are filled, scheduled tournaments tend to have bigger prizes. Even though affordability is one of the main reasons why players enter blackjack tournaments, you can also find freerolls which have no entry fee at all and still offer prizes or cash to the winners. If you want to win ever larger prizes, try entering a satellite tournament, which lets you win your way to a more expensive and prominent tournament.
Whether you play at your local casino or online, you'll surely encounter tournaments with guaranteed prizes. That means that even if there aren't enough entrants, the event will still take place with the advertised prize. A few tournaments give you an opportunity to rebuy if you lose early on.
Broadening Your Horizons
While slot and blackjack tournaments are common online, they're by no mean the only games in town. Video poker, casino hold'em and roulette tournaments are starting to gain popularity in the United Kingdom. At least technically speaking, it's possible for software developers to create leaderboards or tournaments for pretty much any game in existence. If there's enough demand, it's only a matter of time before you find it online.
Top