Top 10 Gambling Facts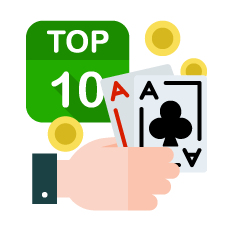 Betting is more than just entertainment. Gambling also has a vibrant culture and rich history that's occasionally as fascinating as the games themselves. If you've spent any time at a casino in London, Manchester, Glasgow, or anywhere else, you've probably encountered the sort of characters who are always ready to regale you with gambling stories and facts about the industry. The next time that happens, you can show him or her who is boss by sharing our top gambling facts. If you prefer playing online, you can keep these facts to yourself while you concentrate on the game at hand or just share them with your mates.
Gambling Is a Cash Cow for HM Revenue and Customs
Given how popular betting is in the United Kingdom, it shouldn't be surprising that the government profits from the gambling industry. Still, casual bettors and pros alike are often shocked to learn just how much revenue gambling generates. Fortunately, you don't have to rely on hearsay or merely take our word for it, as the HM Revenue & Customs publishes a Betting, Gaming and Lottery Duties bulletin twice per year. In the 2016-17 fiscal year, the government took in a whopping £2.71-billion in gaming, betting, and lottery duties. If you're wondering how online casinos factor into the equation, remote gambling accounted for £357 million. What's even more mind-blowing is that the figure continues to grow year after year.
American Roulette Once Offered Even Worse Odds
If you've ever played roulette, you probably know to avoid the American game whenever possible. That's because the US version features a 00 on top of the standard 0, which gives the house an added advantage. Yet in the late nineteenth century, some early American roulette wheels favoured the house to an even greater degree. Some early tables featured the numbers 1 through 28 plus 0, 00, and an American Eagle. The additional spot on the wheel not only preyed on the patriotism of players, but it tipped the scales in favour of the house even further.
The First World Series of Poker Was Decided by a Vote
The World Series of Poker has come a long way since it debuted 47 years ago. Unlike the current WSOP, which has a main event as well as dozens of other freeze-out tournaments, the 1970 World Series of Poker featured a cash game session. What's even more bizarre by today's standards is that the inaugural event was by invitation and only seven players participated. At the end of the session, the players voted for who they believed was the world's greatest poker player. Although Johnny Moss ultimately won, legend has it that every player voted for himself. In order to hamper the egos, players were asked to choose the second-best poker player, which lead to Moss winning the silver cup. The signature WSOP bracelets didn't make their appearance until 1976.
Las Vegas Is No Longer the World's Gambling Capital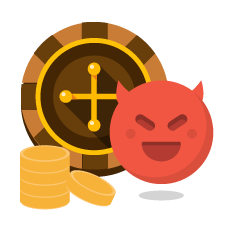 Contrary to popular belief, Las Vegas isn't the globe's gambling epicentre. If you're looking for a truly massive gaming experience, you'll want to set your sights on Macau. The city isn't just the only place to legally gamble in China, but with £35-billion in revenue the local gambling industry is seven times larger than its stateside competitor. Although Macau is by no means a poor imitation of Las Vegas, you will find MGM, Wynn, and Sands casinos in the region. Not all is lost in the great State of Nevada. It's hard to top Sin City for all around entertainment or a wild night with your mates.
The First Online Casino Launched In 1994
Internet gambling has been around for more than two decades. In fact, the first online casino launched before the average Brit had access to the internet. Microgaming, which continues to be one of the leaders in online gaming today, launched The Gaming Club Casino in 1994. Naturally, casinos have made incredible strides since their humble beginnings. Players no longer have to rely on primitive graphics, clunky software, suspect security, and questionable management teams. Today's leading gambling sites are fully licensed and proudly bring you innovations like mobile compatibility and live dealer gaming as well as fantastic promotions.
Royal Flushes Are Rarer Than You Think
If you've been wondering why you have yet to see a royal flush while playing poker with your friends, there's a reason and it all comes down to numbers. With only four possible royal flushes in a deck, your odds of landing the elusive hand are 1 in 649,739. Compare that to the odds of landing four of a kind at 1 in 4,164 or a straight flush at 1 in 72,192 and it's easy to understand why players often feel like they're chasing a mythical creature. Of course, it's far more likely that you'll see a royal flush than win the National Lottery. The odds of winning the life-altering jackpot are 1 in 45,057,474.
Gambling Is in FedEx's Blood
Without blackjack, you might never have heard of FedEx. During some hard times in the early 1970s, the company, which was then known as Federal Express, was unable to secure a $24,000 loan, which it desperately needed to cover a jet fuel bill. In a bid to save his young company, Founder Fred Smith took the company's last $5,000 to Las Vegas and played blackjack. Fortunately, Smith turned that cash into $27,000, which covered the fuel bill and a week's worth of expenses. If it weren't for the saving grace of lady luck, FedEx wouldn't have raked in $50-billion or approximately £38.5-billion in revenue last year. Fred Smith continues to serve as chairman, president, and CEO.
Roulette Is Known as the Devil's Game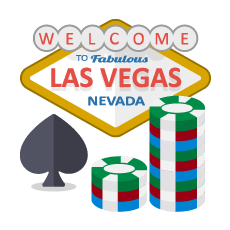 Have you ever taken the time to add up the numbers that appear on the roulette wheel? We'll save you the trouble by revealing that the sum is 666. That's just one of the reasons why the casino fixture is known as the devil's game. There's also a legend that François Blanc, the man who introduced the single zero version of roulette, made a deal with the devil to learn the secrets of the game and become a successful casino operator.
Gambling Made the Great Wall of China Possible
You probably know that the National Lottery provides funding for public buildings in Britain. The Eden Project, American Air Museum, Tate Modern, and Angel of the North all have gambling to thank, but this is hardly a new phenomenon as far as history is concerned. The Great Wall of China was paid for in part by gambling. Legend has it that a state sponsored keno-style game helped pay for the project during the Han dynasty. Keno traces its roots back to the Qin dynasty, where General Cheung Leung conceived the game to fund a war effort without raising traditional taxes.
King Henry VIII Was a Compulsive Gambler
Most people know Henry VIII for his six marriages, but wives weren't his only vice. It's hard to overlook his love of gambling. The King not only played dice and cards regularly, but he made it a habit of wagering on archery, jousting, and other sports. If you believe the historical record, the king suffered a two-year losing streak that cost him £3,250, which would be worth millions today. The King also managed to lose the bells of St. Paul Church on a roll of the dice. In order to defend his reckless wager, Henry VIII claimed the bells were worthless.
Top