Slots Games Explained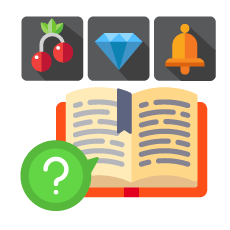 Did you know slot machines are the most popular casino game in the world? While these games of chance certainly have their detractors, many Brits make fruit machines their first and final stop at the casino. You can't blame them once you consider that slots are available in low denominations, require no skill to play, and often feature colossal jackpots. Even though slot machines are straightforward, it's worth taking a few minutes to understand how they work. Continue reading as our experts reveal everything you need and want to know about slot machines.
Games for All Tastes
When you play a casino game like blackjack, you can count on fairly consistent gameplay no matter where you enjoy the game. Sure, there are twists on classic blackjack and some casinos have their own house rules, but at the end of the day there are only so many ways to play twenty one. In contrast, you can find thousands of different slot machines with various themes, payouts, symbols, soundtracks, and special features. Some slots give you just one opportunity to win on a spin, while other games might offer 1024 ways to win. You can find classic fruit machines that pay homage to a bygone era and innovative video slots loaded with stunning animation and interactive bonus features. In other words, if you grow tired of a game all you have to do is slide over for an entirely new experience.
It doesn't matter if you're a film buff, music fanatic, sports fan, or student of history, you'll find thrilling slots that feel like they were custom-tailored for you.
At the same time, slots aren't complicated. As the ultimate game of chance, there isn't much to learn or know. Most games operate on the same fundamental principle. You insert your money, adjust the size of your bet, and press the spin button to set the reels into motion. If any of the winning combinations appear across your active paylines, you'll win. Yet even if you don't understand what's happening right before your eyes, you'll still get paid if you win. Then again, you'll have more fun if you fully understand what's happening.
Slot Machine Mechanics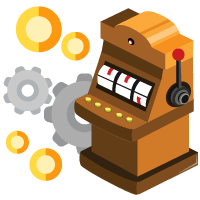 Early slot machines relied on players to pull a lever, which would set three mechanical reels into motion. When playing these classic slots, the correct combination of symbols would need to intersect the single horizontal payline running through the centre of the playing area. Of course, applying physical force isn't technically possible when playing online, which is why contemporary slots use random number generators or RNGs to control where the reels end up stopping. Yet even if you play at a live venue, you'll encounter video slots, which use computer screens and are identical to the games you'll find on the internet. If you do play slots with physical reels, the action is still motorized and where the reels end up is wholly dependent on an RNG, which is a computer program that ensures every outcome is random.
Even though it's possible to create slots with any number of reels, 3 reel and 5 reel configurations are fairly standard.
Paylines
Thanks to technological advances, today's games are far more sophisticated and fun than their predecessors. The biggest change is the number of ways to win. Every game has at least one payline, which is the line that cuts across the gaming area. When a qualifying set of symbols passes through one of the active paylines then you'll win. While early games had just a single payline, the newest video slots have dozens of paylines. Some slot machines have more than 100 paylines. Generally, games pay you for symbol combinations that appear from left to right, but there are exceptions, so read the rules before you play for real money.
Modern slot machines are a huge departure from early games, which had a single payline that cut horizontally through the centre of the reels. The latest releases feature straight, diagonal, and zig-zag paylines that give you more ways to win. Before you spin the reels, it's important to realise that having the correct symbol appear across the reel isn't always enough to win. You'll need to bet on a payline for it to be active. Some games do have fixed paylines, which means you'll be covered on every spin.
Placing Your Bets
Slot machines can generally accommodate any budget. Before placing your bet, you may be able to adjust the coin denomination, quantity of coins per payline, the number of paylines, and the total bet. Not all games let you control all of these elements, but make sure you pay attention to the total bet so you aren't surprised at the cost per spin. Some slot machines do require you to play the maximum number of lines if you want to be eligible to win a progressive jackpot.
Even if pressing the spin button a few times in a row hardly seems like a hassle, most titles now offer an autoplay feature that lets you enjoy dozens and sometimes hundreds of spins in a row with a single click. All you have to do is sit back and watch the money roll in, assuming you win.
The Slot Machine Pay Table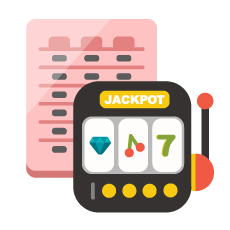 The first slot machines had only a few symbols, which made it possible to display the winning combinations and directions right on the cabinet. Newer games feature many more symbols, free spins, bonus rounds, and other special features. As a result, the pay table and other instructions are out of sight until you click on the appropriate icon. If you take the time to browse the pay table, you'll learn about the symbols, scatters, wilds, winning combinations, how bonus rounds are triggered, and the RTP.
Key Slot Machine Symbols
Wilds
As the name suggests, wild symbols can take the place of most other symbols to help you complete a winning payline. Since every slot machine is a game of chance, when and where wilds appear is effectively random.
When playing slots, you'll likely encounter several types of wilds including sticky wilds, which stay in their place for multiple spins, and stacked wilds, which appear on top of each other on a reel. Expanding wilds grow in size to help you complete even more paylines. Random wilds can appear seemingly out of nowhere after the reels come to a halt. Transferring or nudging wilds can move from one reel to another. Shifting wilds remain in the game for more than one spin but move around on every turn.
Scatters
Scatter symbols serve different functions depending on the game. Sometimes scatters trigger a bonus game or yield a prize, but as the name suggest you can still win when these symbols are scattered about. In other words, the appearance of a scatter symbol on a single spin may be all you need since lining up across a payline isn't generally a requirement.
Bonus Symbols
Many video slots feature bonus symbols, which can launch bonus games, free spins, and other special features. Bonus games may involve spinning a prize wheel, playing a match game, or choosing an object such as a treasure chest to reveal how much cash you've just won. Sometimes you'll win free spins.
Multipliers
Multipliers increase your winnings by a specified factor. You may find 2x or 3x multipliers that will double or triple the usual prizes.
Special Features
Cascading and Tumbling Reels
When you play a game with cascading or tumbling reels, the symbols used to complete your winning payline will disappear and new symbols will fall into place, making it possible to win again and again before you spin again.
Gamble Features
Many slots give you a chance to double your money by playing a bonus game. You usually need to guess the suit or colour of a facedown card that's about to be flipped. The only catch is that if you lose, you'll generally lose it all.
Free Spins
When you win in-game free spins, you can have another go at the game without placing another bet. It's possible to win free spins and then use those free spins to win even more free spins and so on.
Playing for Progressive Jackpots
While most slots have a top prize that's fixed, progressive jackpot slots grow over time. Whenever a player places a real money bet on a progressive slot machine, a portion of the bet gets added to the prize pool. Since progressive slots are networked across multiple sites or live venues, the most popular games grow rapidly and have prizes worth millions.
Slot Machine Tips
Slot machines are games of chance and winning is completely random.
Always glance at the pay table before playing so you'll know what to expect.
When comparing games, examine the payouts to improve your odds.
Make use of sign up bonuses and loyalty programmes to boost your overall returns.
You may be required to place a maximum bet to be eligible to win a jackpot.
Manage your bankroll effectively to insulate yourself against losing streaks.
Try playing games for free to discover new favourites without breaking the bank.
Top