Couples & Astrology- What is the Compatibility?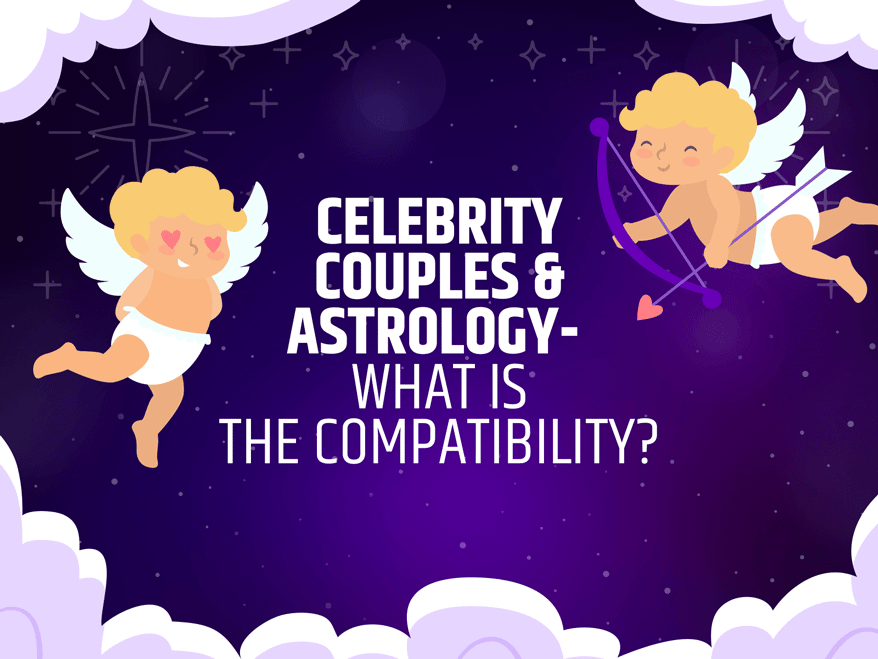 Every day we see several celebrity couples on the screen. We look at them and lust after their relationship. On-screen it's easy to show off a healthy relationship, but nobody knows what goes on off-screen. Are they happy or are they on the brink of separation? It's difficult to know whether the couples you idolise are even in love or if they're faking it. Many celebrity couples have recently hit the headlines for their dream-like love stories and astrologers are always sceptical.
Why? Astrologers have studied the zodiac stars in great depth to understand whether a couple is compatible or if they are an unusual match. With Mercury in retrograde, Astrologers always have deductions to make about the compatibility of celebrity couples. Matches are indeed made in heaven, but horoscopes can have a great influence in you finding your significant other.
While it is impossible to tell what goes on behind closed doors, the horoscope can help people understand the paradigms of relationships for different celebrity couples. So, to ease your curiosity, we've taken it upon ourselves to research all the top 30 favourite celebrity couples! We found out what zodiac signs they are, and if astrology predicts whether they are as compatible as the screen shows. Let's get right into it!
The lists go from the most compatible to the least compatible couple, all according to the horoscope of course, in our mind they're all #couplegoals.

To kick off the list we have Spencer Mathews (Leo) and Vogue Williams (Libra). Married in 2018, the couple has successfully topped our list of compatible couples and stand at a staggering 97%. The couple met each other on the set of 'The Jump'. That's where their love story began. The couple, as per astrology, is highly compatible as they are known to be a source of inspiration for the other.
Next on the list, we have Jason Statham and Rosie Huntington-Whiteley. This couple scores a 95% on our list and is a very compatible couple astrology wise. We have another Leo man acing our list as Jason is a Leo with partner Rosie as an Aries. Both the fire signs keep the fire of their relationship ignited. Since they are similar in their personalities, they can easily understand each other and be supportive.
If we go further down the list, we find the interesting couple of Tommy Mallet and Georgia Kousoulou. Both partners in this couple are Gemini. This couple can be highly successful if they channel their energies which is difficult for the ever-curious Gemini. While they can feed each other's curiosity, they are also very prone to overpower the other. In our list, they stand at 67% which ranks 15th.Only if the Gemini knew how to tone down their "extra" personalities, they would have topped our charts.

Now let's discuss the couples on the other end of the yardstick. Couples from the numbers 16-30 are the least compatible celebrity couples on our list. Kim Sears and Andy Murray have been the unfortunate ones as they are the least compatible couple according to our research. They stand at a low 39%. The pair of Sagittarius and Taurus, as per astrologists, starts with a spark, only to fizzle down after the honeymoon period. While the Sagittarius wants freedom and thrill, the Taurus is much more grounded and roots for stability. Mundane routines and lack of space can cause your Sagittarius to gallop away, making it difficult for this pairing to work.
Similarly, the couple of Cancer and Aquarius can be seen twice on this end as they simply don't do well astrologically. The pair is a peculiar match for an emotionally unavailable Aquarius and an overly emotional Cancer. Tom Fletcher with his partner Giovanna Fletcher and Adrian Edmondson with his partner Jennifer Saunders is a prime example of this coupling. Aquarians are free-spirited with a rebellious streak while Cancers are emotional and want a partner that will feed their emotion. The lack of communication and emotional dependence can be the biggest reason why this couple does not score high on our scale.
Aries and Taurus is also a recurring couple who has scored a low percentage on our list. This couple is also not doing very well because of fundamental differences between the two. While the Aries is filled with fire, Taurus lacks a passion for it. The two stars run of different wavelengths and are hardly ever on the same page. Their compatibility is always low even if they put in a lot of effort or are madly in love. To become a good match, both the signs would have to make big changes to their personalities for the other.

Kate Middleton married the wrong brother clearly (astrologically speaking at least). According to the stars, Capricorn Kate is much better suited to Virgo Prince Harry as their signs are highly compatible. Their communication is surely of the highest level and they can understand one and other without having to utter a single word. The signs are both very enthusiastic about the future and this is what helps the relationship going.
Another better suited match according to astrology is David Beckham and Olivia Bowen. The Taurus (David Beckham's star sign) is a much better companion for a Capricorn rather than an Aries. It's very hard for them both to be able to run a long relationship knowing each other's differences.
Methodology:
We took a look at some of the most popular UK famous couples to see how compatible they are according to astrology. We used this https://www.prokerala.com/astrology/zodiac-compatibility.php astrology calculator using each person's star sign.
References:
https://www.prokerala.com/astrology/zodiac-compatibility.php
Data sheet includes the references we used to gather every star's birthday: Download
Something Similar: UK's Favourite Chocolate Bar