Gambling Glossary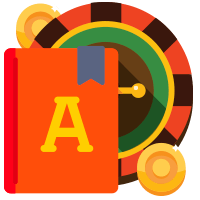 Although it's entirely possible to feed a few quid into a fruit machine and win big without grasping the rules or learning the lingo, wouldn't you rather get more out of your game? It's worth going beyond the absolute basics, especially since it's not particularly difficult. Whether you play live or online, even a little knowledge will go a long way. That's precisely why we've compiled this invaluable glossary.
This page is loaded with casino terms and expressions that you're bound to encounter. If you take the time to browse it now, you can start speaking like a seasoned gambler faster than you might expect. Don't forget to bookmark this glossary for easy access while you play.
Action
The amount of cash that you bet during a game or gaming session.
All-in
Wagering all your remaining chips in a single bet.
American roulette
An inferior version of the popular wheel game that adds an extra 00 to the standard 0-36 configuration for a total of 38 numbered slots.
Ante
A mandatory wager that players are forced to make before the game starts.
Baccarat
A popular comparing card game that features a wooden pallet.
Banker
Refers to the dealer in most games. In some baccarat variations, the banker is one of your betting options.
Bankroll
Available funds that a player can use to gamble.
Bet
The amount of money you're wagering.
Blackjack
May refer to the card game twenty-one or a hand within the game that consists of an ace plus a card with a value of ten.
Blind
Forced bets made in poker variations like Texas hold'em, which must be paid before any cards are seen.
Bonus
Extra cash given to players as an incentive to sign up or deposit.
Bonus game
Special slot features that are a departure from the main game and let you win free spins, extra cash, or prizes.
Burn card
A card that is discarded from the top of the deck prior to dealing. This is done to prevent cheating.
Bust
Going over 21 and instantly losing in blackjack.
Card counting
Card counting is a mathematical system used by blackjack players that keeps track of the remaining cards in the deck to gain an advantage.
Cashier
The area of an online casino where you can deposit funds and withdraw your winnings. When playing live the cashier refers to the cage or area of the casino where you can exchange your chips for banknotes.
Casino advantage
The mathematical edge that casinos have over players.
Casino hold'em poker
A simplified version of Texas hold'em that pits you against the house rather than other human players.
Chemin de fir
The original French version of baccarat.
Chips
Tokens used in place of money at the tables. When playing live these are typically made out of a material that feels like a cross between clay and plastic.
Come out
The initial roll in a craps game.
Comps
Perks given to players. These can include free parking, meals, hotel rooms, drinks, gifts, airfare, and more.
Craps
The popular dice table game.
Credit
A slot machine betting unit, which is often called a coin.
Croupier
Another word for the dealer or the person responsible for running the action, dealing cards, or spinning the roulette wheel.
Deposit
Adding money to your casino account. This can usually be done by credit card, debit card, bank transfer, or using an electronic wallet like PayPal. See our deposit guide for more information.
Double down
A blackjack betting option that lets players double their original bet and receive one additional card.
eCOGRA
An independent testing agency that certifies online gambling software, resolves disputes, and protects players.
European roulette
The standard version of the wheel game, which features 37 numbers ranging from 0-36.
Face cards
Jack, queens, and kings.
Flush
A hand where all the cards have the same suit.
Four of a kind
Four cards with identical numbers or faces.
French roulette
A version of European roulette that offers a unique table layout and occasionally en prison and la partage rules, which improve your overall odds.
Full house
A hand consisting of three of a kind plus a pair.
Hard hand
Blackjack hands featuring an ace with a value of 1 or no ace at all.
Hit
Landing your qualifying symbols and winning while playing slots or asking for an additional card in blackjack and other related games.
Hole card
Cards that are dealt face down.
House edge
The statistical advantage that the casino holds over players in a given game.
House rules
Special rules that vary by casino or game. In blackjack, the house rules will dictate when the dealer is required to hit and under what conditions you can split your hands or double down.
Inside bet
Roulette wagers that are physically placed in the inner portion of the table on the numbered grid.
Insurance
A blackjack side bet that pays you if the dealer has blackjack.
Jacks or better
A video poker variation where the minimum qualifying hand is a pair of jacks.
Jackpot
The top prize or an otherwise large sum of cash that you can potentially win.
Joker
Extra cards in the deck that depict a court jester and are typically wild.
Keno
A lottery style game featuring numbered balls. When you play online, the draw is conducted instantly just for you.
Live dealer games
Online games that feature human croupiers and make use of webcast technology to stream a live table from the casino floor to your computer or mobile.
Loose
Games, typically slots, that offer better than average payouts.
Martingale betting system
The popular wagering technique that requires you to double the amount of your bet whenever you lose.
Max bet
A slot machine button that will lets you bet the maximum number of allowable credits on a spin.
Multiplier
A slot machine feature that will increase the amount of your payout by a designated factor.
Odds
The chance of winning, but also how much you stand to win.
Outside bet
Roulette bets placed on the perimeter of the numerical grid. These include even money bets, columns, and dozens.
Pai gow
A Chinese gambling game that uses dominos. You may also encounter an Americanized version that uses cards instead.
Pair
Two cards with the same numerical value.
Pay line
The location where qualifying symbols need to appear for you to win your slot machine bet. Slots have between one and several hundred paylines. You can often choose how many paylines to bet on.
Pay table
The grid that shows you how much you stand to win depending on what you land.
Payout percentage
A numerical value that reveals how much of the total amount bet gets returned to players over the long haul. See our payout guide for more information.
Pot
The prize pool that's available to be won.
Progressive jackpots
A top prize that grows over time until a lucky player wins and the process starts all over again.
Punto banco
A baccarat variation that is popular in the UK, USA, Canada, Australia, and Macau.
Push
A draw or tie in a game, which usually results in the player getting his or her money back.
Rake
A small fee paid by players to the poker room for hosting the game.
Royal flush
A ten, jack, queen, king, and ace of the same suit.
RNG
Also known as a random number generator, this computer algorithm ensures that every roll of the dice, card dealt, and spin is fair and mathematically mirrors real life outcomes.
Scatters
Special slot machine symbols that can pay out or launch bonus rounds, free spins, and other features even if they don't appear on an active payline.
Shoe
The container that houses the decks of cards that are used during the game.
Showdown
The culmination of the game where all remaining players reveal their hands and the winner is determined.
Sic bo
A table game where players bet on the outcome of three dice rolled at once.
Soft hand
Blackjack hands that feature an ace valued as 11.
Split
Turning a pair of cards in blackjack into two separate hands.
Stand
Opting not to receive any additional cards in a blackjack game.
Straight
A hand featuring cards that are in numerical order.
Straight flush
A sequential hand where all the cards are of the same suit.
Surrender
Forfeiting your blackjack hand but losing only half your bet.
Symbols
The icons that are found on slot machine reels. You'll win if you land any of the qualifying symbol combinations listed in the pay table.
Three of a kind
A hand with three cards of the same rank.
Tight
Games that have worse than average payouts. Typically used to describe slots.
UK Gambling Commission
The public body that is tasked with regulating online and offline gambling in the United Kingdom. Learn more on UK gambling regulation.
Video poker
An electronic five-card draw poker game where players are rewarded from the quality of their hands.
Video lots
Computerized slot machines that feature no moving parts unlike their reel-based counterparts. When playing online, this refers to the style of game as all internet slots are technically video slots.
VIP
Shorthand for very important person. These people get special perks and access to restricted areas of the casino. It's much easier to become a VIP on the internet.
Wagering requirements
The amount that you must bet before you are eligible to cash out your bonus.
Welcome bonus
Special perks such as free money or spins that are offered to new players when signing up or funding an account for the first time.
Wilds
Slot machine symbols that can take the place of other symbols to help you complete your paylines. This can also apply to cards in video poker games.
Top